Latest Photo Galleries
Signs of Tension
Published on 04/11/2016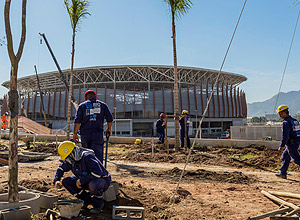 Rio: a City in Metamorphosis
Published on 11/19/2015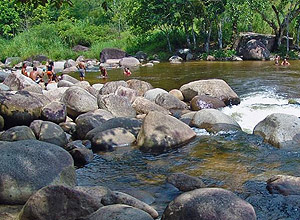 Crystal Unclear: A Future for Water Resources in Brazil
Brazilian Markets
17h37

Bovespa

-1,04%
107.805

16h43

Gold

0,00%
117

16h59

Dollar

+0,93%
5,5060

16h30

Euro

+0,49%
2,65250
'Relationship Problems' Kill Environmentalists, Says Brazil's Minister of Agriculture
11/18/2016 - 11h06
ANA CAROLINA AMARAL
FOLHA CONTRIBUTOR IN MARRAKECH
Brazil's Minister of Agriculture, Blairo Maggi (PP-RS), has become the main focus in the Brazilian delegation since the team arrived at the United Nations Conference on Climate Change (COP22) on Tuesday, November 15.
Maggi made a series of statements that displeased agencies connected to the climate issue. He said that "Brazilian agriculture is the most sustainable in the world, and all Brazilian rivers are protected by the country's legislation. But, more than the legislation itself, the rivers are protected by the Brazilian producers' awareness."
In another occasion, Maggi asked who would pay for the environmental protection in Brazilian rural proprieties, estimated at US$ 40 billion. The changes include deforestation control and replacing fertilizers.
However, the statement which received the most publicity was when he said that the murders of environmentalists and deaths in battles for land in Brazil occur due to "relationship problems."
"When you analyze the core issue, you will see that there are relationship problems between the people of certain places and these problems cannot be included in the overall issue," said Maggi on Wednesday, November 16.
The answer of the Brazilian organizations following COP22 came on Thursday, November 17.
In a letter read during an event of the Brazilian Coalition on Climate, Forests and Agriculture and sent to Minister Maggi at the end of the day, the executive secretary of the Climate Observatory, Carlos Rittl, cited and commented on each of the minister's sentences.
Rittl said that the Cadastro Ambiental Rural (Rural Environmental Registration), an instrument in Brazil's new Forestry Code, is not working yet to monitor the producers' "awareness".
The letter says that, to obtain the necessary funds for low-carbon agriculture and cattle farming, "all that we need is for rural producers to pay their debts" with Plano Safra, which granted R$ 202 billion (US$ 58 billion) in financing to the sector in 2016 - delinquency in Plano Safra has an overall average of some 5%.
On Minister Maggi's statements regarding the deaths in the country's rural areas, the letter cites data of a study by NGO Global Witness - it shows that Brazil staged one third of the murders of environmentalists in 2016, most of them in the Amazon.
Rittl says that "stating that these deaths occurred due to 'relationship problems' could be compared to the denial of the climate issue by the newly-elected president of the U.S., when he says that global warming was invented by the Chinese to make the American industry less competitive."
As symbol of their outrage towards Minister Maggi's statements, young Brazilians of NGO Engajamundo sent him a pearl necklace - the pearls symbolize the "precious" sentences he said during the conference.
Questioned on the gift he received, Maggi answered that he did not understand the joke, but he would give the necklace to his daughter anyway.
Translated by THOMAS MUELLO
Read the article in the original language
Juan Domingues
NGO Engajamundo sent Maggi a pearl necklace; the pearls symbolize the "precious" sentences he said during the conference