Latest Photo Galleries
Signs of Tension
Published on 04/11/2016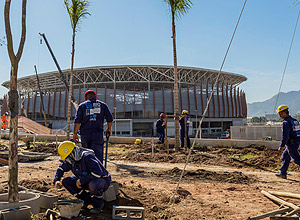 Rio: a City in Metamorphosis
Published on 11/19/2015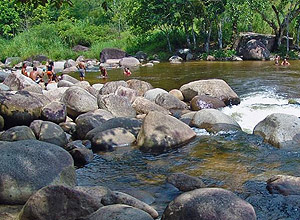 Crystal Unclear: A Future for Water Resources in Brazil
Brazilian Markets
17h19

Bovespa

+0,76%
112.143

16h43

Gold

0,00%
117

17h00

Dollar

-0,33%
5,4240

16h30

Euro

+0,49%
2,65250
Blood Test is Capable of Detecting Alzheimer's in Its Early Stages
03/10/2017 - 12h06
PHILLIPPE WATANABE
FROM SÃO PAULO
Two Brazilian research groups have obtained promising results regarding studies whose goal it is to diagnose Alzheimer's and schizophrenia.
Exams are still being tested, but the progress that has already been made suggests that fast diagnoses of these diseases are not far away.
There are currently no specific exams for diagnosing such diseases. The existence of a single exam capable of determining whether or not a patient has these diseases would mean a huge leap forward, enabling early treatment.
With this in mind, scientists at Ufscar (Federal University of São Carlos) tried focusing on a particular biomarker: ADAM10, a protein that research has linked to Alzheimer's.
24 patients participated in the study and were divided into three groups of eight: those who were healthy, those who had pre-Alzheimer's and finally those who had Alzheimer's.
Researchers collected patients' blood which they later ran through a sensor they designed. Half an hour later, the device managed to detect varying levels of ADAM10, which in turn made it possible to separate the patients into groups.
"The test may enable people to diagnose the disease in its early stages", said Márcia Cominetti, one of the researchers.
According to a study from Unifesp (Federal University of São Paulo) the same blood can also be used to help detect schizophrenia.
The study arrived at this conclusion by comparing results from 26 patients with schizophrenia to results from 27 patients without the disease.
Researchers analysed differences in metabolism that arose according to the group. The blood samples were analysed with the help of magnetic imaging which offered details on a molecular level.
They then ran the data obtained through a software that quantified the risk each person had of developing schizophrenia.
"If we manage to corroborate these findings in a larger study, we may be able to consider the results a sort of metabolic biosignature", said Elisa Brietzke, one of the study's authors.
Translated by THOMAS MATHEWSON