Latest Photo Galleries
Signs of Tension
Published on 04/11/2016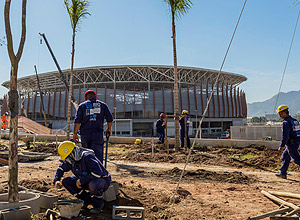 Rio: a City in Metamorphosis
Published on 11/19/2015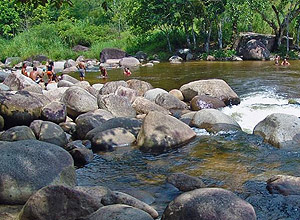 Crystal Unclear: A Future for Water Resources in Brazil
Brazilian Markets
18h14

Bovespa

+1,39%
78.571

16h43

Gold

0,00%
117

17h02

Dollar

-1,87%
3,7740

16h30

Euro

+0,49%
2,65250
Wet Amazon Is More Vulnerable to Climate Change
04/19/2017 - 13h22
REINALDO JOSÉ LOPES
COLLABORATION FOR FOLHA
A frightening paradox may make the Amazon region that spends half the year underwater the one more vulnerable to catastrophic fires and becoming a savannah because of climate change.
Such floodplains are at the heart of the Amazon basin and, if nothing is done, they will eventually turn into the forest's Achilles' heel in face of global warming, researchers in Brazil, the Netherlands and China warn in an article published by the scientific journal "PNAS."
"We are talking about a seventh of the Amazon, which is not a small thing," says Rio de Janeiro's ecologist Bernardo Flores, one of the authors of the study. "Previous studies had ignored these flood areas, and what we are finding out is that they have a high flammability". In other words: they catch fire with surprising ease.
The specter of so-called savannization - the transformation of the dense forest into areas of open vegetation, with savanna characteristics - have long been surrounding the Amazon.
Among the likely consequences of increased heat in the coming decades is the multiplication of extreme weather events, especially of prolonged drought episodes.
In theory, the tendency is for the Amazonian borders - the south and east of the region - to be more susceptible to savannization, since they are already relatively drier and have more marked seasons.
When the different types of forest in the region are examined in detail, however, the scenario changes.
The first important point verified by the researchers is that the floodplains, where the forest is flooded for months every year, have a vegetation cover naturally less dense than the areas where there is no flooding: 66% of dense vegetation against 93%, respectively.
This means that floodable areas are already more open to the influence of sunlight and other factors that can dry them.
But the most revealing fact comes from the study of hundreds of Amazonian forest areas during and after two large droughts that affected the basin in recent years (1997 and 2005).
In these episodes, the floodplains take much longer to recover than the dry land forest. "It is a vegetation difficult to dry, but when it dries it has a lot of fuel accumulated, because of factors like the finer roots, which gather a lot of organic matter," says Flores.
In addition, the burning of floodplains is often more insidious and slow, killing a considerable amount of trees at the root. "With a longer impact and slower recovery, the vegetation remains open longer and is at greater risk of being trapped by fire in an open state - this is basically the definition of savanna, a vegetation that is maintained to a large extent by interaction with fire, "he explains.
Translated by MARINA DELLA VALLE