Latest Photo Galleries
Signs of Tension
Published on 04/11/2016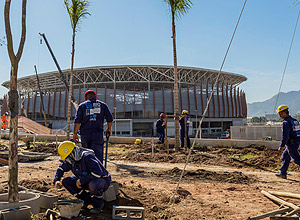 Rio: a City in Metamorphosis
Published on 11/19/2015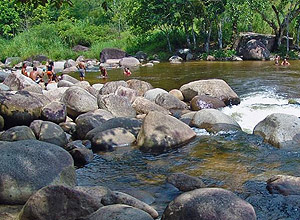 Crystal Unclear: A Future for Water Resources in Brazil
Brazilian Markets
17h33

Bovespa

+0,60%
98.672

16h43

Gold

0,00%
117

17h00

Dollar

+0,42%
5,2520

16h30

Euro

+0,49%
2,65250
Hydropower Plant Caused Evolutionary Adaptations in Lizards
09/08/2017 - 10h50
REINALDO JOSÉ LOPES
FOLHA CONTRIBUTOR
The construction of a hydropower plant in the state of Goiás accidentally led to an open-air laboratory with an evolutionary bent.
On several of the islands that were formed ever since the reservoir was filled with water in 1998, lizards in the region have undergone rapid changes in both habit and appearance through natural selection.
In less than 15 years, the Gymnodactlyus lizard population - which was isolated by the water of the Serra da Mesa power station, near the municipality of Minaçu - started not only capturing bigger prey, but developing a head that is considered to be more evolved when compared to the heads of its cousins on the "mainland".
Similar processes took place on five separate islands in the reservoir.
"This strengthens the notion that processes like these, which had been witnessed on separate occasions, contain a certain degree of predictability", said biologist Reuber Albuquerque Brandão, at the University of Brasília (UnB), who co-authors a study on the matter.
Work by the main author of the study, Mariana Eloy de Amorim, who is also from UnB, was recently published in the PNAS magazine.
Under normal circumstances, the G. amarali species, which feeds on termites, needs to compete with smaller reptiles (the calangos).
Many of the almost 300 islands that emerged ran out of calangos, while the lizards kept feeding on termites.
But the feeding process has changed when compared to their relatives that live in the surroundings: that's because the island-based lizards have bigger heads.
Why would natural selection favor the reproduction of lizards with bigger heads? Most likely so that they can eat termites that became bigger (and are, therefore, more nutritive) now that there are no longer any calangos around to compete with.
Translated by THOMAS MATHEWSON