Latest Photo Galleries
Signs of Tension
Published on 04/11/2016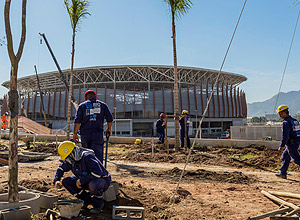 Rio: a City in Metamorphosis
Published on 11/19/2015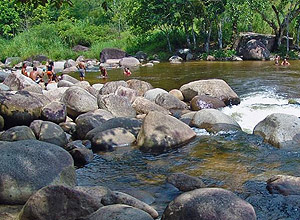 Crystal Unclear: A Future for Water Resources in Brazil
Brazilian Markets
17h39

Bovespa

-0,68%
113.283

16h43

Gold

0,00%
117

17h00

Dollar

+0,60%
5,3440

16h30

Euro

+0,49%
2,65250
30 years without Garrincha
01/22/2013 - 09h00
RUY CASTRO
FOLHA COLUMNIST
Thirty years after his death, certain myths about Garrincha continue to be harder to kill than Rasputin.
What he called his "John" markers, for example, meaning that he did not even want to know who they were, because he would dribble them in the same way. Garrincha never said that.
The story was invented by his friend, the journalist Sandro Moreyra, in 1957, to show him as a naive and intuitive genius. Garrincha hated that, because his enemies, who did not want to be called "John", redoubled the violence against him.
That Garrincha was an intuitive soccer genius, there is no doubt. But there was nothing naive, almost frail, some stories painted him. Rather, he was even very smart about what interested him - women and booze, in principle, in that order - and that there was no team meeting that could stop him. In the first ten years of his career, 1953-1962, Garrincha managed to reconcile all this with soccer. From then on, life has presented him the bill.
Acervo-2.set.1958/Arquivo do Estado
Beside Mazzola (right), Garrincha listens to music on concentration selection in 1958
Another myth is that, on the eve of the Brazil vs USSR in the 1958 World Cup in Sweden, the three most influential players on the national team - Bellini, Didi and Nilton Santos - went to the coach Vicente Feola and demanded his insertion at the right wing, with consequent shedding of Joel, from Flamengo, then holder of that position. In 1995, this was denied to me by the four players (Bellini, Didi, Nilton Santos and Joel), by the physical trainer of that team, Paulo Amaral, and by other members of the delegation.
I asked Nilton Santos why, for so many years, he had confirmed a story that he knew to be untrue. He admitted: "It was what people wanted to hear." In the future, in interviews, he would tell the correct version: that Joel got hurt against England, and the entry of Garrincha would have happened anyway. Note that until the game with the USSR, Garrincha was not yet the legendary Garrincha, and Joel, also a great athlete, was a normal choice for the wing.
Another myth, this now very understated, but ferocious at the time, refers to the participation of Elza Soares in the life of Garrincha. To the uninformed, she helped destroy him. The truth is the opposite: without Elza, Garrincha would have gone into his personal hell much earlier. When she met him (in late 1961, and not in mid-1962, during the World Cup in Chile, as is written today), Elza was in her heyday as the star of samba, radio and record. And no one imagined that Garrincha, soon after winning that Cup practically single-handedly, would soon cease to be Garrincha.
No one, pretty much. The Botafogo doctors and trainers knew that Garrincha, with his knee chronically in tatters (and aggravated by drink), was at his limit. But he did not allowed himself to be operated on - he only trusted the professional mourners of his city, Pau Grande. What Garrincha did in the Cup was a miracle. But as soon as he returned from Chile, the problems worsened. Even playing very few matches, he took Botafogo to the Rio championship title - and as soon as the tournament ended, with his devastating display in the 3-0 win against Flamengo, he was never the same. Mark the day: December 15, 1962, there the true Garrincha ended.
Another Garrincha - fat, bloated, drinking openly or secretly, unable to repeat his dribbling and sprints from the right - continued crawling through the fields, pitches wearing illustrious shirts (of Botafogo itself, of Corinthians, of Flamengo, of Olaria and the national team) for an unbelievable ten more years - until the famous Game of Gratitude, organized by Elza Soares. It was his official farewell, on December 19, 1973, with a Maracanã flooded with love.
That night, a team made up of Felix, Carlos Alberto, Brito, Piazza and Everaldo; Clodoaldo, Rivelino and Paulo César; Garrincha, Jairzinho and Pele - practically the 1970 national team with Garrincha - took the field to face a team of foreigners who worked in Brazil, starring Pedro Rocha, Forlan, Reyes and others.
In one of several preliminaries, singers and artists, such as Chico Buarque, Jorge Ben, Wilson Simonal, Paulinho da Viola, Miele, Sergio Chapelin, Francisco Cuoco and other celebrities also clashed. Through the turnstiles of the stadium, 131,555 people passed, and except for one person - the dictator Garrastazu Medici - all paid to enter, including the journalists. It was money that would ensure Garrincha's future.
Income of nearly 1.4 million cruzeiros ($230 thousand in 1973, a huge amount), around 500 thousand cruzeiros left the Maracanã safe straight into the savings accounts in the name of his eight official daughters and to an apartment or house for each. This was one of the goals of the game. With taxes to the IRS and others, over 700 thousand cruzeiros were left for him to do what he wanted - and that he, naturally, burned through right away, without knowing how.
Hence the latest and greatest myth about Garrincha to be debunked: that no one helped him - that at the end of his life, he said in interviews for television, which are still replayed. But the truth is that Garrincha was helped a lot, and in many stages of his life.
Among his greatest benefactors were the banker José Luiz Magalhães Lins, of the then powerful National Bank; businessman Alfredo Monteverde, owner of Ponto Frio; the Brazilian Coffee Institute (IBC) and the Brazilian Assistance Legion (LBA), which gave him generous jobs, to whom he did not show appreciation; and his former soccer colleagues, grouped in AGAP (Professional Athlete Guaranty Association), who didn't get tired of collecting him in an alcoholic coma in the street and committing him to "detoxification" clinics - from which he was criminally released two or three days after being admitted.
Alcoholism killed Garrincha 30 years ago - and continues to kill him until today, to every one of his victims that Brazil no longer watches.
RUY CASTRO is the author of "Lone Star - A Brazilian Called Garrincha " (1995), Companhia das Letras, currently in its 16th printing.
Translated by DAVE WOLIN