Latest Photo Galleries
Signs of Tension
Published on 04/11/2016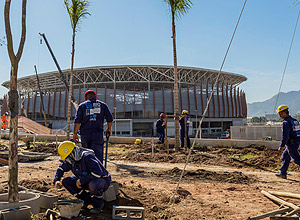 Rio: a City in Metamorphosis
Published on 11/19/2015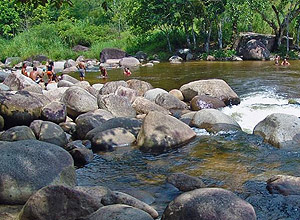 Crystal Unclear: A Future for Water Resources in Brazil
Brazilian Markets
18h14

Bovespa

-1,18%
97.761

16h43

Gold

0,00%
117

17h00

Dollar

+0,63%
5,3860

16h30

Euro

+0,49%
2,65250
Opinion: The Example Comes from the Canoe
07/24/2015 - 09h13
MARIANA LAJOLO
FOLHA COLUMNIST
A river gave Brazil four medals at Toronto Pan American Games, two of them were gold. Only one river. Like hundreds of others who run across the country.
But what is so special about this water? There is no magic ingredient. It's just tradition, sense of timing and persistence.
Contas River, in the South of Bahia State, bathes the cities of Ubaitaba, Ubatã and Itacaré.
There, the athletes Isaquias Queiroz, Erlon Silva and Valdenice do Nascimento were born and "discovered".
They podiumed four times; Brazil won nine in canoeing, the country's best campaign in a Pan American tournament.
Canoes are part of the everyday life of these athletes from an early age.
They were used by Brazilian natives and later they became a means of transportation in their cities. It was also an activity for the children.
In Ubaitaba, a small town with 21 thousand inhabitants, the canoe became a sport in 1985.
In 1990, local athletes who stood out on a national level began to organize and disseminate canoeing in the region.
Even though they counted on makeshift equipment, old canoes and had to chip in their share to compete, they got the attention.
In 2005, the Ministry of Sports initiated the program "Segundo Tempo" in the city (it does not exist anymore).
For parents, it was a chance of leaving their kids somewhere safe while they were at work. For children, it was the opening of a new perspective.
Isaquias started paddling at the age of 11, while attending the program. He quit being a football player to become a canoeing world champion.
This small piece of land in the South of Bahia already had its tradition. Canoeing was in these cities' DNA.
The athletes' pioneering initiative called attention to the phenomenon that was happening there. It took only a basically organized program to help their talent blossom.
Young people who paddle on Contas River still have difficulties. The region is poor and lacks incentive.
It takes persistence to keep training in conditions that are far from ideal. But they don't stop.
Every four years, executives talk about giving a good showing at the Olympics.
Invariably, the question arises: What is the formula to become a sports power? Today we import technicians, athletes and we train abroad.
These things are important, but they do not guarantee a long-term success.
Every great sports power has its recipe. But, invariably, it all starts in childhood, by giving children good conditions to practice sports from an early age.
Sports, in the plural. Several sports, without pressure. Then, later, and preferably at school, their skills are clearer and specialization begins.
And from a huge base of practitioners, few hundreds will be picked to be Olympic athletes.
It is not necessary to go far to understand that equation. Just look at that little piece of land in the South of Bahia.
Giving children the chance to discover sports and practise them in an organized way. And later you can reap medals.
Translated by JULIANA CALDERARI
Read the article in the original language