Latest Photo Galleries
Signs of Tension
Published on 04/11/2016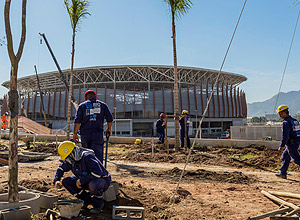 Rio: a City in Metamorphosis
Published on 11/19/2015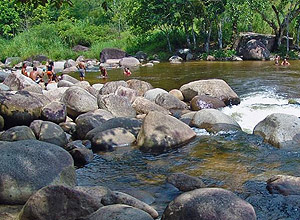 Crystal Unclear: A Future for Water Resources in Brazil
Brazilian Markets
14h51

Bovespa

+0,68%
103.615

16h43

Gold

0,00%
117

15h03

Dollar

+1,95%
5,3180

16h30

Euro

+0,49%
2,65250
FIFA's Magazine Says that Brazil Leaves Everything to the Last Minute, "Even Stadiums"
03/24/2014 - 09h41
RAFAEL REIS
SPECIAL REPORT FROM ZURICH
Brazil is a country that does not respect punctuality, leaving everything to the last possible minute, and whose people do not have the patience to stand in line.
This is the portrait of the country hosting the next World Cup that "FIFA Weekly", a weekly magazine by the organizers of the World Cup, carried in Friday's issue.
The article "Brazil for Beginners" contains ten tips for foreign tourists to not worry unnecessarily and avoid cultural problems in the country during the World Cup.
The article takes the opportunity to poke fun at the organization of the World Cup by saying that, in Brazil, "things are left to the last minute." "This is true even for the stadiums," reads an excerpt from the story.
The World Cup organization is worried about delays in stadium projects. According to the initial schedule, all arenas should have been ready by the end of December.
But three of the 12 stadiums, Cuiabá, Curitiba and São Paulo, have not yet been inaugurated.
A LOOK AT FIFA'S TIPS FOR TOURISTS WHO WILL VISIT BRAZIL
1 - "Yes" doesn't always mean "yes": it's the intonation of the voice that defines whether the yes is really a yes or a maybe. For this reason, so if somebody says to you, "Yes, I'll call you back", do not expect the telephone to be ringing in the next five minutes".
2 - Timing is flexible: do not expect Brazilians to be punctual. "If two people decide to meet at 12.30, they will actually see each other at 12.45 at the earliest".
3 - Bodily contact: Brazilians are not used to the European code of maintaining a polite distance between one another. They speak with their hands and will not hesitate to touch the person with who you are conversing.
4 - Queuing: Patiently waiting in line is not in a Brazilian's DNA, they prefer cultivated chaos.
5 - Survival of the biggest: On the roads, pedestrians are largely ignored, and even at zebra crossing hardly any motorist will stop voluntarily.
6 - Restraint: If you go to a Churrasco restaurant that offers all-you-can-eat and immediately want to get stuck into the meat menu, remember two things: eat nothing for at least 12 hours before hand and consume food in small doses, since the best meat is usually served last.
7 - Try some Açaí: they say it has the same effect as an energy drink.
8 - Going topless: Bared skin and female body art may be familiar at Carnival, but they are not what you will see in everyday Brazil. Indeed, although Brazilian bikinis contain less fabric than comparable products in Europe, they are still worn at all times. Tanning on the beach without wearing them is strictly forbidden and may even result in a fine.
9 - No Spanish: the national language is Portuguese. If you say that Buenos Aires is the capital of Brazil you may be deported.
10 - Have patience: in Brazil, things are largely done last minute. That even goes for the football stadiums. And if there's one thing above all that a tourist must remember, it's not to lose patience and keep hold of your nerves. A Brazilian attitude to life can be summarized like this: relax and enjoy.
Translated by STEVE HUGHES
Read the article in the original language
Reprodução
The article contains tips for tourists to not worry unnecessarily and avoid cultural problems in the country during the World Cup