Latest Photo Galleries
Signs of Tension
Published on 04/11/2016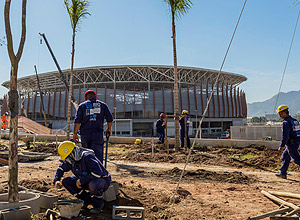 Rio: a City in Metamorphosis
Published on 11/19/2015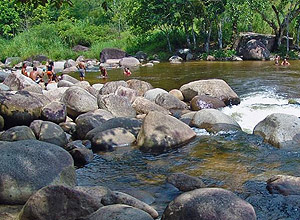 Crystal Unclear: A Future for Water Resources in Brazil
Brazilian Markets
17h35

Bovespa

-1,33%
106.296

16h43

Gold

0,00%
117

17h00

Dollar

-0,74%
5,6250

16h30

Euro

+0,49%
2,65250
Former Player Ronaldo Urges Crackdown on Vandals and Masked Protesters
05/30/2014 - 09h51
Often tense, sweating a lot, but at the same time displaying a good sense of humor, Ronaldo, 37, a former player of the Brazilian soccer team and member of the local organizing committee (LOC) for the World Cup, spoke with plenty of breaks in between apparently intending to avoid giving controversial statements.
But he was not able to do so. In a Folha's sponsored event on Thursday (29), he said he feels ashamed that the promised World Cup legacies have failed to materialize.
He also said to support street protests, but he was harsh on violent protesters: for him, security forces must "use force" on "vandals".
The former player, the top scorer in the history of World Cups (15 goals), was interviewed for two hours by Naief Haddad, Sport editor; Uirá Machado, Opinion editor; and Roberto Dias, assistant managing editor.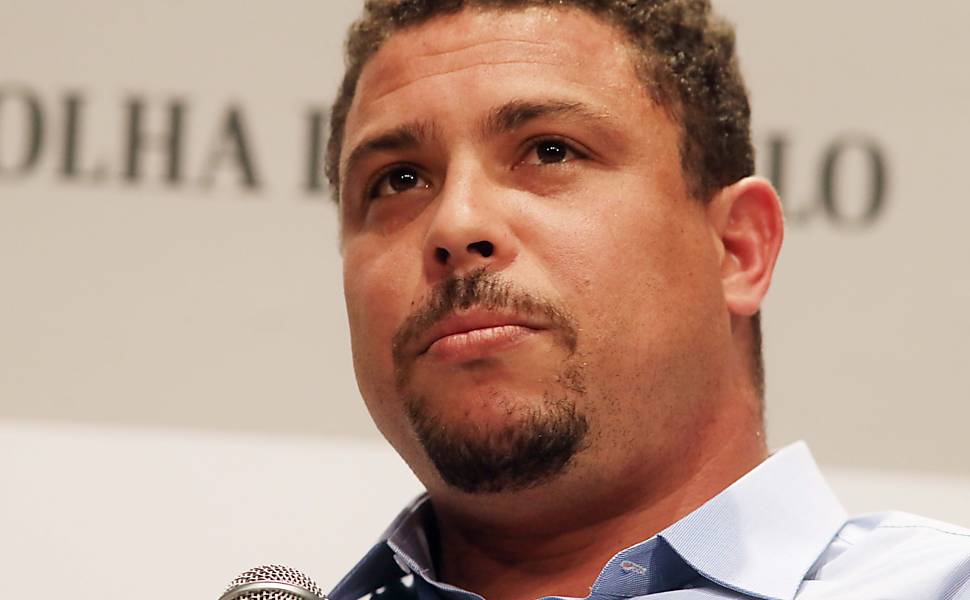 Protests
Asked about the possibility of new protests during the World Cup, Ronaldo said that peaceful demonstrations are "valid". Violent protesters, on the other hand, he did not support.
"From the moment there are vandals in the middle of it, masked protesters... security forces must restrain them. It seems that people have waken up [to the country's problems], but everyone decided to do so at the same time. Nobody knows how or where to go to protest. I believe people must protest without violence. With vandals, masked protester, there must be a crackdown."
World Cup Criticism
In an interview with Reuters, Ronaldo caused controversy by expressing he is "ashamed" for the works at the World Cup. On Thursday (29), he explained that his complaints were not related to the delays.
"I am ashamed because Brazilians expected a great legacy. Airport reforms, urban mobility works... The stadiums are there. For better or worse, they will be ready. Only 30% of what was promised [infrastructure works] will be delivered. This is what I am ashamed of.
Tired of getting attacked
Four times he said to be "outraged" by the delays and, many times, to be blamed for this.
In recent months, he was called an "imbecil" by writer Paulo Coelho for his support to the World Cup. The former player and Congressman Romario (PSB - RJ) complained that the former colleague was "switching sides."
"It has been two years since I have been attacked. I do not deserve it. My money I made in a decent way. I'm not a contractor. I do not ask favors from any politician. It is not my fault if Brazil does not have any decent hospitals."
The 'real victim'
For the former player and manager (he is the partner at 9ine, a sports marketing agency), there will not be, in the future, another chance for the public to see the World Cup in the country.
"I do not think we will have another World Cup in Brazil. Fifa will become traumatized [with the competition this year]."
He argues that the idea of the World Cup was sold as a panacea to solve all the problems of the Brazilian people.
"The World Cup is the real victim. We can not forget the country we live. Before the World Cup it was not amazing, we did not have a perfect health policy. With education is the same.. We are the ones who must solve the problems."
Aécio Neves
He reaffirmed his support for Aécio Neves, a presidential pre-candidate from the PSDB party, announced last week. He reminded that he is a friend of the former Minas governor since 2000.
"My vote is his. It is not that absurd to say I will vote for Aécio. I'm a citizen like any other. My opinion is sincere. I have no connection with any political party," he said.
Friends
To make clear that he has no political affiliation, Ronaldo quoted he has friends in the PT and PSDB political parties.
He said many times he intends to support Andrés Sanchez, former president of Corinthians and a federal representative. "He is my friend. And he is from PT."
He also mentioned he has an excellent relationship with former presidents Fernando Henrique Cardoso and Lula.
"I went to lunch several times with Lula at the Presidential [Palace]. Those were wonderful lunches. I also like hanging out with Fernando Henrique; he tells amazing stories. I have no relationship with Dilma. Maybe because Dilma does not drink cachaça", he said, laughing, remembering the alleged preference of this drink by former president Lula.
The world's best
Ronaldo thinks Neymar is "one or two steps below" both the Portuguese player Cristiano Ronaldo and the Argentine Messi. The former Brazilian forward commonly referred to as "the phenomenon", thinks the players are ahead of everyone else.
"The best in the world today is Cristiano Ronaldo. Neymar will soon overtake them. He will be the best in one or two years. If Brazil is [world] champion and Neymar is our best player, he will be elected the world's best player by FIFA in January. He is very young [22 years old] but also has a lot of experience for his age."
Ronaldo's favourite national teams
Ronaldo has chosen Brazil, Germany, Argentina and Spain. He believes the final on July 13th will be played between Brazilians and Germans. "We have more ways of winning this year's World Cup than we did in 2002", he said.
In the tournament 12 years ago, Ronaldo was the main striker, scoring eight goals, and Brazil beat Germany in the final.
"The current Brazilian national team is very well-balanced. I believe it is one of the most well-balanced teams of all World Cups. We have the world's best defenders and full-backs, we have a consistent mid-field and incredible forwards. We are not missing anything", he concluded.
Heading the Brazilian Football Confederation
Ronaldo did not demonstrate the intention to lead Brazilian football. "Nobody will say to me: here is the CBF for you to run", he said, making sure to point out he did not want to chair any clubs nor state federations.
He smiled when he was reminded of a quote by Carlos Alberto Parreira, the former manager of the Brazilian national team and its current assistant manager, who said that the CBF is a "Brazil that works."
"If the CBF is the best thing we have, we are finished", he joked.
Common sense
One of the most well-known names in the history of football, Ronaldo showed support towards the Common Sense movement. It is an association of Brazilian professional athletes that promotes actions to improve the sports calendar as well as the working conditions of players.
When he played in Corinthians between 2009 and 2011 he worked side-by-side the defender Paulo André, one of the heads behind the movement. "It is a very important movement. What is happening in our country is also happening in football", he said, recalling the wave of demonstrations that took over the streets of Brazil in 2013.
"This movement wants to be heard. Only 10% of professional players earn more than US$4.500 [per month]. The remaining 90% earn the minimum wage, or up to twice that amount", he concluded.
Translated by SIMONE PALMA AND CRISTIANE COSTA LIMA