Latest Photo Galleries
Signs of Tension
Published on 04/11/2016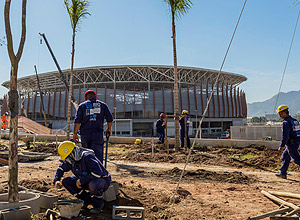 Rio: a City in Metamorphosis
Published on 11/19/2015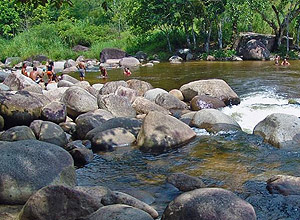 Crystal Unclear: A Future for Water Resources in Brazil
Brazilian Markets
13h17

Bovespa

-0,09%
114.536

16h43

Gold

0,00%
117

13h23

Dollar

+1,10%
5,5140

16h30

Euro

+0,49%
2,65250
Itaquerão Is Approved With Reservations
06/13/2014 - 10h04
The least tested venue to host a World Cup since 1990, Itaquerão passed trial by fire without outstanding.
If the fans entrance, policing and information services were well organized, there have been many complaints about facilities like food and telephony.
At the external area, before the match started, there atmosphere was calm: only hawkers worked, scalpers did not show up and there were no serious incidents.
The access to the stadium was also fast. Cardboard boxes used to go through the metal detectors during the test games, which got stuck in the mats and slowed the inbound, were replaced by plastic trays.
Despite being helpful, some volunteers struggled to provide basic information.
Inside Itaquerão, there were more problems. Before the game kicked off, there were queues and crowding at the cafeterias. Some booed, protesting over the disorganization.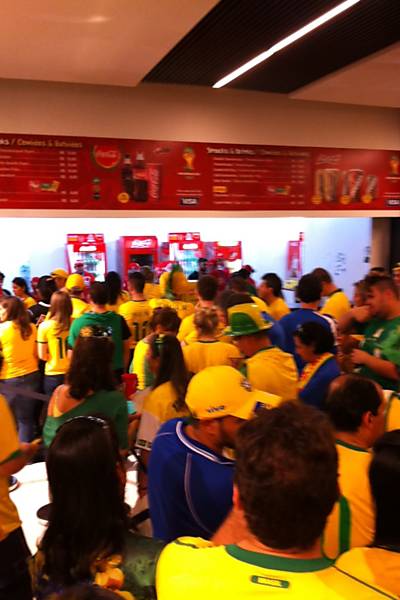 During the match, the lighting of two sectors failed by seven minutes. It was not enough to disturb the public and the players because there was still daylight. Fifa said there was no power-supply fault and they will assess the case.
Before the end of the first half some cafeterias had no food available. The queue to buy popcorn -the only food available– would take up to 20 minutes.
"I missed the beginning of the match because it took me 25 minutes to buy water," complained lawyer Ana Beatriz Crespo's, 47, of Rio. According to Crespos, her 12 year old son starved during the game. "And Fifa does not allow us to bring food."
The manager Fábio Kamada, 32, from Curitiba, experienced a similar situation. Kamada and his pregnant wife could not find anything to eat. "The access to the stadium was good, but I couldn't buy anything."
Finishing flaws, such as exposed wires on the floor, disturbed the fashion student Rafaela Teixeira, 23, from Americana (SP). Teixeira is a wheelchair user and had to be carried to overcome the obstacles.
The stadium that cost over US$ 445 million had ink stains on carpets and walls. Next to a medical station, a broken siding exposed the light board.
Users of different telephone carriers reported difficulties in using 3G and 4G networks. The signal was unstable or not available.
The outbound was problematic. The fans spent nearly one hour to leave the arena in the midst of a pushing crowd and slowdowns. The metro was also packed.
Translated by JULIANA CALDERARI