Latest Photo Galleries
Signs of Tension
Published on 04/11/2016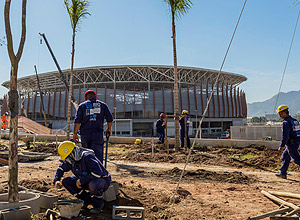 Rio: a City in Metamorphosis
Published on 11/19/2015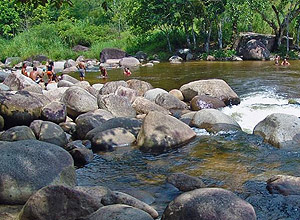 Crystal Unclear: A Future for Water Resources in Brazil
Brazilian Markets
18h22

Bovespa

-4,25%
95.369

16h43

Gold

0,00%
117

17h00

Dollar

+1,44%
5,7650

16h30

Euro

+0,49%
2,65250
Brazilian Police Investigate Illegal Ticket Sale Scheme at Brazilian Football Confederation
07/02/2014 - 10h55
MARCO ANTÔNIO MARTINS
DIANA BRITO
FROM RIO
An illegal sale scheme of tickets for a number of matches at this year's World Cup, that made around US$452,000 for each match, has been dismantled this Tuesday, July 1st, following the arrest of 11 suspects in the cities of Rio de Janeiro and São Paulo.
The Brazilian Civil Police together with Rio's District Attorney have raised concerns over involvement of Fifa staff as well as members of the Brazilian, Argentine and Spanish Football Federations.
The scheme was organized by the Algerian national Mohamadou Lamine Fofana, 57, and had been under investigation for three months.
Telephone calls made by the Argelian were intercepted and included direct calls to Brazil's national team training ground in the town of Teresópolis, state of Rio de Janeiro.
"Lamine made a number of phone calls to Comary, in search for tickets. We suspect somebody passed the tickets on to him after players had given them up. We are assessing this at the moment", the Public Prosecutor Marcos Kac has said.
Of the tickets held by the police, ten belonged to Brazil's managing staff. The Police suspects that the Algerian's third man has direct contact with the national team as well as free access to Comary training ground, but is not a fixed staff.
"We have gathered elements that [show] that national teams hand over tickets to scouts through a person who benefits from this transaction. We already have a testimony of somebody who worked for three different national teams", the Police Chief responsible for handling this case, Fabio Baruk, has said.
SINCE 2002
This ticket sale scheme, according to this investigation, has been active since the 2002 World Cup (in Japan and South Korea).
In Brazil, it has been found through phone wires and secret filming that the scheme has used fictional companies in order to buy tickets for World Cup matches through a range of sources, and resell them for € 1.000 (R$ 3.000/US$1300) each.
It is thought that the scheme was able to purchase tickets belonging to a Fifa quota destined for promotional pricing that includes half-priced tickets, in addition to tickets destined to the Brazilia, Argentine and Spanish federations.
"He [Lamine] could be associated with a Fifa staff member", Baruk said.
The 11 suspects have been arrested under suspicion of ticket scouting, criminal association and money laundering. They could face conviction of up to 18 years.
ZURICH CONNECTION
Each match a national team plays, Fifa hands over 700 tickets to that country's federation. Additionally, the Brazilian Football Confederation has been given over 30 thousand tickets because it is the federation which is hosting this year's tournament.
According to this investigation, Lamine spent hours on phone calls to Zurich (Switzerland), where Fifa's headquarter is located, which has raised concerns of involvement of this entity's staff.
The Algerian uses a car that bears Fifa's credentials. Among those he contacted by phone were current and former football players from different countries.
Throughout this Monday, June 30th, Lamine sold tickets for the Argentina X Switzerland match for US$1300. The Police estimate that the scheme intended to make around US$90m in this World Cup alone.
Ticket scouts worked through tourism agencies in Rio's Copacabana area, one of which was fictional.
THE OTHER SIDE
Fifa, the Brazilian Football Confederation and members of other football federations under suspicion of involvement in the illegal ticket sale scheme for the 2014 World Cup had not made any comments until closure of this article.
Fifa says it is incapable of making any comments about this case because it has not been contacted by local authorities, nor has it received any official information.
The Brazilian Football Confederation said it has not been given any official information. They have also said that tickets given by Fifa are numbered and do not bear an individual's name on them.
Folha attempted to contact the football federations of Argentina and Spain, without success. The newspaper was also unable to find Mahamadou Fofana's defense.
Translated by CRISTIANE COSTA LIMA
Read the article in the original language
Diana Brito/Folhapress
An illegal sale scheme of tickets for a number of matches at this year's World Cup has been dismantled this Tuesday (1)