Latest Photo Galleries
Signs of Tension
Published on 04/11/2016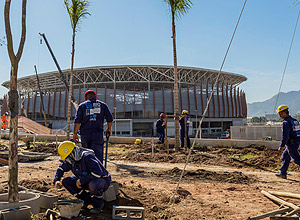 Rio: a City in Metamorphosis
Published on 11/19/2015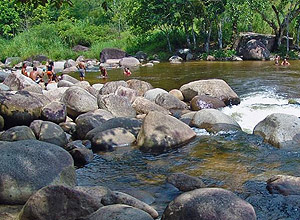 Crystal Unclear: A Future for Water Resources in Brazil
Brazilian Markets
18h19

Bovespa

-0,30%
93.628

16h43

Gold

0,00%
117

17h00

Dollar

-0,76%
4,0170

16h30

Euro

+0,49%
2,65250
World Cup Organization Well Evaluated by 83% of Foreigners
07/15/2014 - 09h04
FERNANDO CANZIAN
FROM SÃO PAULO
The World Cup in Brazil positively surprised foreigners who came to the country to watch games, reveals a Datafolha survey of visitors from other countries who followed the Cup.
In some questions, the approval rate was at almost 100%: 92% of visitors praised both comfort and safety of World Cup stadiums. An absolute majority of 76% also found the quality of transportation to tournament arenas to rank between excellent and good.
The hospitality of the host country stands out as one of the World Cup highlights: 95% of foreigners evaluated their reception in Brazil as excellent or good.
The majority (90%) followed news about Brazil before arriving in the country. Half of them (50%) said they heard more negative reports than positive. But numbers show they ended up being very impressed.
The organization of the World Cup has been rated as excellent/good by 83% of foreigners. For 12%, it was regular; just 3% considered it poor/bad. A majority of 51% found the organization around the Cup to be better than they expected.
A frequent target of criticism and protests among Brazilians, public transportation was evaluated as better than expected by 46%, as expected by 40% and worse than expected by 11%.
Communication systems (phone and internet) and prices in general (food, hotels and flights) had negative reviews above average.
Cost of living was considered bad/terrible by 29% of those interviewed, with the same rating given to hotels by 27% of respondents. Communication systems were given approval by a minority of 41%.
Security, a sensitive topic for foreigners who visit Brazil (and for Brazilians as well), exceeded expectations of 60% of interviewees.
The survey polled 2,209 foreigners from more than 60 countries in airports in São Paulo, Rio and Brasília, as well as in Fan Fests and places with large concentrations of fans in Belo Horizonte, Salvador, Fortaleza, São Paulo, Rio and Brasília between July 1 and 11.
This group does not represent all foreigners who visited the country. According to the Ministry of Tourism, around 1 million foreigners from 203 countries came to Brazil for the World Cup.
The survey also sought to evaluate the spontaneous opinion of foreigners.
For them, hospitality, friendliness and kindness are what the country does best: 42% spoke of people and their characteristics (among Argentinians, this rate drops to 35%). The beauty of Brazilian women was mentioned in 11% of spontaneous answers.
Foreigners also weighed in on the worst: 18% mentioned topics related to poverty, social inequality, favelas and homeless people. A similar number (16%) indicated the lack of security. The next negative aspect mentioned was traffic, at 8%.
"Tourists have taken away a positive image [of Brazil], but have noticed the high costs of products and services, as well as the social inequality and insecurity," said Mauro Paulino, director general of Datafolha.
When asked after spending a few days (of the World Cup) in the country, 69% said they would live in Brazil.
Translated by JILL LANGLOIS
Read the article in the original language
Editoria de Arte/Folhapress