Latest Photo Galleries
Signs of Tension
Published on 04/11/2016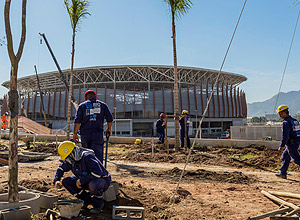 Rio: a City in Metamorphosis
Published on 11/19/2015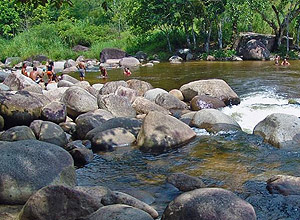 Crystal Unclear: A Future for Water Resources in Brazil
Brazilian Markets
17h31

Bovespa

-2,32%
108.844

16h43

Gold

0,00%
117

17h00

Dollar

+0,81%
5,3320

16h30

Euro

+0,49%
2,65250
Block Parties and Shows Warm Up Salvador Prior to Carnival
02/14/2014 - 09h38
MICHAEL KEPP
SPECIAL FOLHA
Salvador is such a rhythmic and musical city that, on a recent visit, I avoided its postcards places - from the Mercado Modelo up to Bonfim Church, choosing instead to go after its percussive sounds.
Most of these emanating from Pelourinho, the historic center of the city where Afro block parties and carnival fans rehearse. These rehearsals are performed on large courtyards stages, covered with tarps, that more than a thousand people.
On a Sunday afternoon, my first stop was to hear the afoxé rehearsal from Sons of Gandhy. Members of the block played drums (cylindrical drums) and agogôs, marking the rhythm, called ijexá, a smooth and rhythmic drumming.
The songs are anthems of peace and faith, as one would expect from a block that takes the name of a Hindu leader.
Then, I went to the African block Olodum rehearsal in Pelourinho patio, squeezed in the middle of an audience of 1,500 people. This block plays samba-reggae, a mix of samba and Jamaican reggae pace with a rhythm is dictated by surdo, drums with very large bass sounds.
On Tuesday evening, Olodum rehearsals include woodwind instruments, making more harmonious and danceable sounds.
With Olodum's beat still reverberating in my ears, I went to the Concha Acústica amphitheater considered a musical "point" in the Campo Grande neighborhood. There, the Rumpilezz Orkestra mixed drums and many blows in the format of a "big band", creating a sound with African and jazz roots.
Lenin and Margareth Menezes were the guest vocalists. After this, it was time for BaianaSystem. The Bahiana guitar player (imagine an electric mandolin), bass, drums and lead singer from this band mixes Jamaican and frevo style music.
The dialogue that the band created with its DJ, operating a psychedelic sound system, led an audience of 8,000 people to dance frantically.
Despite having my ears and feet already exhausted, I dragged myself to listen to Timbalada, the band founded by Carlinhos Brown, playing at a huge outdoor patio with high walls, in the commercial district.
The timbales from the band, shaped like drums, but with a more high-pitched sound, were accompanied by woodwinds instruments and vocalists. The sound was an eclectic mix of axé, samba and percussive reinterpretations of MPB (Brazilian Popular Music) hits.
It was so thrilling that the audience of 2,000 people danced in ecstasy, especially when Charlie Brown showed up for a presentation.
On Monday night, feeling already recovered from the Sunday marathon, I returned to Pelourinho to the Cortejo Afro rehearsal. His band - surdo drums, smaller drums, a guitar, a bass and a saxophone - combines African rhythms with electronic beats.
As with Olodum, the lyrics of their songs praised black values, and, like Timbalada, their percussive reinterpretations of MPB hits made a thousand people dance.
There are carnival block rehearsals almost every night of the week in Pelourinho in the three months prior to Carnival. But, changing the rhythm, on Tuesday night I heard Gerônimo and his band perform on a stage set up at the bottom of the stairs of a church in the same neighborhood.
Gerônimo sings songs composed with soft ijexá rhythms, African-Caribbean influences and lyrics black pride.
It usually attracts 2,000 people. But that night, under heavy drizzle, only 350 fans standing on the staircase move at the sound of his soothing music.
For me, Gerônimo was the perfect antidote to all drumming I had heard. For those who enjoy Carnival, the time is now: in addition to shows, there are rehearsal blocks.
Translated by SIMONE PALMA