Latest Photo Galleries
Signs of Tension
Published on 04/11/2016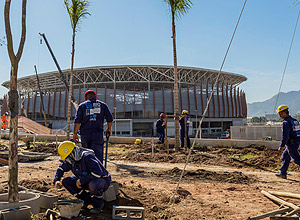 Rio: a City in Metamorphosis
Published on 11/19/2015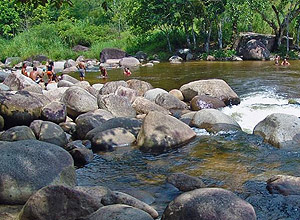 Crystal Unclear: A Future for Water Resources in Brazil
Brazilian Markets
14h34

Bovespa

+1,72%
110.723

16h43

Gold

0,00%
117

14h30

Dollar

-0,82%
5,2880

16h30

Euro

+0,49%
2,65250
Curitiba Has Museum Designed by Oscar Niemeyer
04/30/2014 - 09h00
MARIANA BOMFIM
COLLABORATION FOR FOLHA
Discover Curitiba's main attractions, one of 12 World Cup host cities. Store schedules might change during the games, so it is worth checking for working hours before planning.
See also hotels with openings for the event period (from June 12 to July 13). Some are already sold out on a few dates. For this reason, we recommend against last minute bookings.Fifa site lists other lodging options.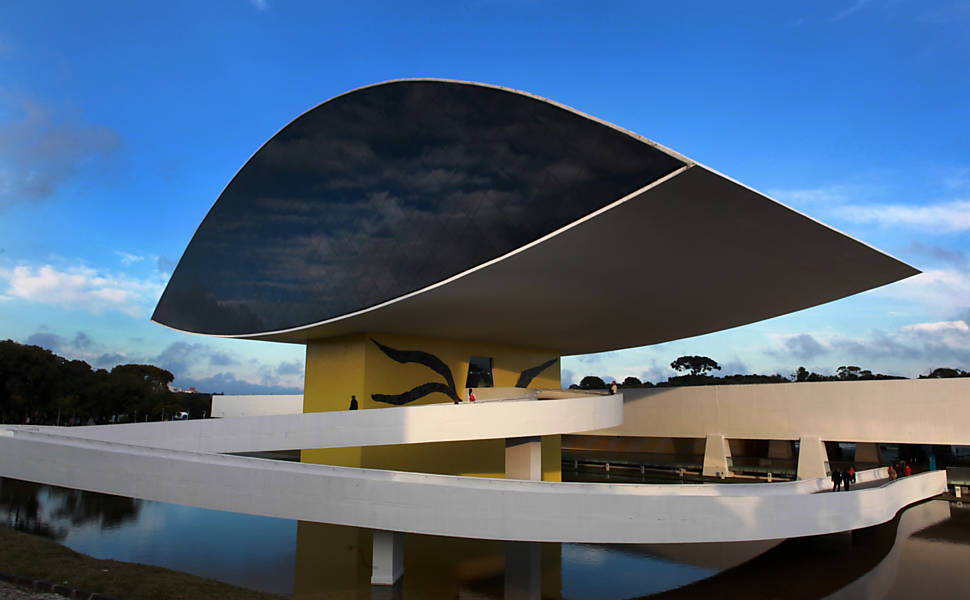 1 - Oscar Niemeyer Museum
Designed by Oscar Niemeyer, the Museum is about 35 thousand square meters. The space is dedicated to visual arts, architecture, urbanism and design exhibitions.
Marechal Hermes Street, 999, Centro Cívico, site. Tue-Sun from 10am to 6pm. R$6.
2 - Botanical Garden
The Botanical Garden's trails and greenhouse are visited by about 1 million people a year. Plants are pruned sculpturally and symmetry, in the style of French gardens.
Engineer Ostoja Roguski Avenue, 690, Botanical Garden, phone (41) 3264-6994. Daily from 6am to 7:30pm. Free.
3 - Panoramic Tower
Sits on the highest point of Curitiba and allows a 360 view of the state capital. Visitors can watch video sessions with information about the city.
Professor Lycio Grein de Castro Velozzo, 191, Mercês, phone (41) 3339-7613. Tue-Sun, From 10am to 6pm. R$3.50.
4 - Serra Verde Express Train
Covers 100 kilometers of rainforest, to Morretes.
Avenida Presidente Affonso Camargo, 330, Railway Station, site. Mon to Sat 7am to 6:30pm; Sun. 7am to 12pm. R$72 (Curitiba - Morrete route in economy class); R$50 (Morretes - Curitiba in economy class).
5 - Barigui Park
The most visited park in Curitiba, the Barigui, features barbecue grills, stands, ski bicycle motocross and model airplanes spaces, sports courts, gym equipment and an amusement park.
Access by the BR-277 Road and Candido Hartmann Avenue, phone (41) 3350-9891 Open all day.
6 - Largo da Ordem Street Fair
About 1,300 tents in the historic center of Curitiba sell crafts as decorative items, jewelry, paintings, bags, clothes, books and furniture on Sundays.
São Francisco Street, Largo da Ordem, Garibaldi Square, Centro, phone (41) 3250-7713. Sun from 9am to 2pm.
7 -House Romário Martins
Example of Portuguese colonial architecture, the house is no longer a place of residence since early 20th century and it was used as business until 1970. Three years later, the city turned it into a cultural center, giving its name in honor to the historian Alfredo Romário Martins.
Largo Colonel Eneas, 30, São Francisco, phone (41) 3321-3263 . Tue-Fri from 9am to 12pm and from 1pm to 6pm. Sat. and Sun. from 9am to 2pm. Free.
8 - Madalosso Restaurant
It has been open for almost 50 years. The Italian restaurant works with rodizio style. Dishes such as chicken wings with garlic, chicken risotto and fried polenta served at R$36 per person .
Avenida Manoel Ribas 5875, Santa Felicidade site. Mon-Sat., from 11:30am to 5:40pm and from 7pm to 11pm.
WHERE TO STAY
Price per couple, with breakfast
Transamerica Prime Batel: R$650
(41) 3017-1700; site
Hotel Nacional Inn: R$950
(41) 4081-1337; site
Radisson Hotel : from R$793 to R$1,343
(41) 3351-2222; site
Bourbon Convention: R$538 to R$1,919
(41) 3221-4600; site
BAIXADA STADIUM GAMES
1st Phase
Nigeria x Iran
June 16 at 4pm
Tickets for people with disabilities (R$180)
Ecuador v Honduras
June 20 at 7pm
Tickets for people with disabilities (R$180)
Spain vs. Australia
June 23, 1pm
Algeria vs. Russia
June 26 at 5pm
Tickets for people with disabilities (R$180)
Information on this page were checked on Tuesday (day 22); some hotels do not have availability for all days of the World Cup; there are fees on daily rates.
Translated by SIMONE PALMA