Latest Photo Galleries
Signs of Tension
Published on 04/11/2016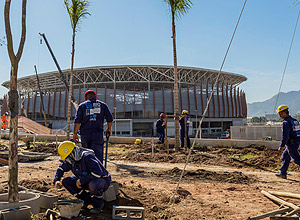 Rio: a City in Metamorphosis
Published on 11/19/2015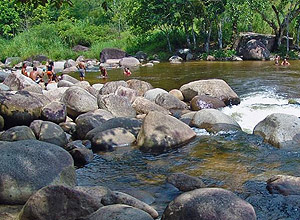 Crystal Unclear: A Future for Water Resources in Brazil
Brazilian Markets
14h48

Bovespa

-2,90%
108.198

16h43

Gold

0,00%
117

14h46

Dollar

+1,07%
5,3460

16h30

Euro

+0,49%
2,65250
Visit Cuiabá, Home to Parks, Aquariums and Handicrafts
05/06/2014 - 09h04
MARIANA BOMFIM
REPORTS FOR FOLHA
Check out below the main attractions of Cuiabá, one of the 12 host cities for the World Cup. Opening hours may vary because of the football, so it's worth calling ahead before deciding on an itinerary.
We also list some hotels that still have vacancies for the World Cup month (June 12 to July 13).
Some are already fully booked on certain dates, so be sure not to leave your reservation to the last minute. FIFA's website also has some other options for accommodation.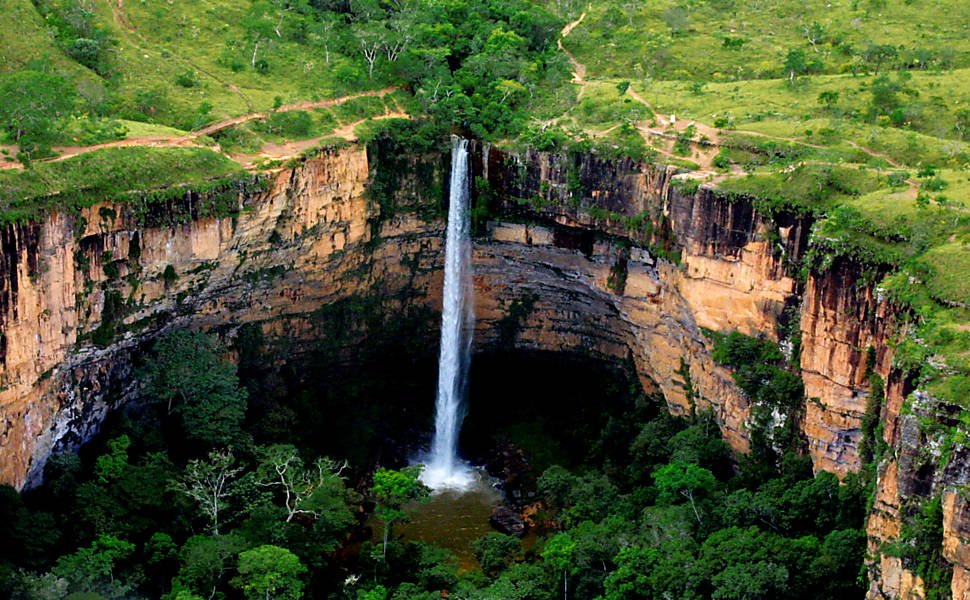 1. Chapada dos Guimarães
The spectacular landscape of Brazil's Center-West Region contains waterfalls, caves, canyons and hills. In 1989, the Chapada dos Guimarães national park was created to protect local ecosystems and archeological sites, and is located at just over 43 miles from Cuiabá.
Access by the Rodovia Emanuel Pinheiro, the MT-251, km 50,site. Daily, from 9am to 4pm. Guided walks, from 8am to 4pm. Free entry.
2. Parque Mãe Bonifácia
There is a track for walkers and runners, a lookout point, a sandy trail for exercise, a playground and a stage for events. The park is named after a woman who lived near the park in the 19th century.
Av. Miguel Sutil, Duque de Caxias, tel. (65) 3623-4965. Daily, from 5am to 6pm. Free entry.
3. Casa do Artesão
Here you can buy typical handicrafts from the region, such as ornamental woodwork, products made from liana and tucumã palm, hammocks, shawls, rugs, ceramics and trinkets made from seeds. There is also a room full of regional sweets and jams.
R. 13 de Junho, 315, Porto, tel. (65) 3611-0500. Monday to Friday, from 8:30am until 5:30pm. Saturday, from 8:30am until 5pm. Sundays, from 8:30am until 3:30pm. Free entry.
4. Municipal Aquarium
Reopened this year, after four years of renovation, the aquarium is home to 50 well-known fish species of the region, including pacu, brycon, chum-chum, granulated catfish, sorubim, loricariidae, bagre, dorado, cachara and curimbatá.
Av. Beira Rio, Porto, tel. (65) 3617-1225. Tuesdays to Sundays, from 9am to 6pm. Free entry.
5. Igreja de Nossa Senhora do Rosário e São Benedito
Built by slaves, this church is an example of Cuiabá's 17th century religious architecture. The colonial façade is simple, but the interior is rich in detail in both the baroque and rococo styles, with gold and silver etchings upon the altars.
Praça do Rosário, Centro, tel. (65) 3364-3961. Monday to Friday, from 1pm to 7pm. Saturday, from 7:30am to 12pm. Free entry.
6. SESC Arsenal
This was once a military installation where arms were produced and repaired. Today, it is a cultural center, offering activities involving music, cinema, theater and handicrafts.
R. 13 de Junho, Porto, site. Tuesday to Sunday, from 1pm to 10pm. Free entry, though additional costs apply to some attractions.
7. Dona Eulália
Dona Eulália's breakfast is famous in Cuiabá. The house specialty is the sweet rice cake (approx. US $1). On busy days, nearly 2000 of these are sold.
R. Professor João Félix, 470, Lixeira, tel. (65) 3624-5653. Tuesday and Thursday, from 5am to 10am. Saturday and Sunday, from 5:30am to 11:30am.
8. Bar Chorinho
The owner, Antônio Marinho de Souza Fortaleza, plays a seven-string guitar, and is a choro fanatic. There is also samba, and space for those who want to dance. If you're hungry, try the pork crackling (US $9, serves three) and little pasties of either beef or cheese (US $9, serves three). Beer is served by the bottle (Brahma and Bohemia, approx. US $3).
R. Estevão de Mendonça, 869, Quilombo, tel. (65) 3634-6450. Thursday to Saturday, 5:30pm until 2am.
WHERE TO STAY
(Price per couple, with breakfast included)
Odara Hotel: R$ 343 (US $153)
(11) 5041-3962; site
Sansaed Hotel: R$ 570 (US $254)
(65) 3051-4500;site
Taiamã Hotel: R$ 588 (US $262)
(65) 2121-1000;site
*Roari Hotel: R$ 340 (US $151) (Three days for one person)
(11) 4872-5201; site
MATCHES AT THE PANTANAL ARENA
(Times given are Brasília time)
First Round
Chile vs Australia: June 13, 7pm
There are still tickets available for disabled people at R$180 (US $80).
Russia vs South Korea: June 17, 7pm
There are tickets available from R$270 (US $120) to R$350 (US $156), as well as reduced price tickets for disabled people at R$180 (US $80).
Bosnia vs Nigeria: June 21, 7pm
There are tickets available from R$180 (US $80) to R$350 (US $156), as well as reduced price tickets for disabled people at R$180 (US $80).
Colombia vs Japan: June 24, 5pm
There are reduced price tickets for disabled people available at R$180 (US $80).
The information on this page was last checked on April 22.
Some hotels do not have availability for all the days during the World Cup period, reservations for a single night may be subject to extra charges.
Translated by TOM GATEHOUSE