Latest Photo Galleries
Signs of Tension
Published on 04/11/2016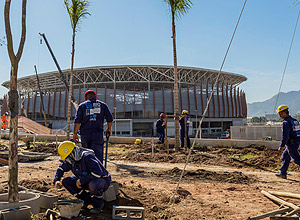 Rio: a City in Metamorphosis
Published on 11/19/2015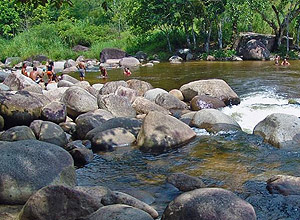 Crystal Unclear: A Future for Water Resources in Brazil
Brazilian Markets
15h04

Bovespa

+1,70%
110.703

16h43

Gold

0,00%
117

15h03

Dollar

-1,05%
5,2760

16h30

Euro

+0,49%
2,65250
In Salvador, a World Cup Host City, Visit Farol da Barra and Pelourinho
05/07/2014 - 09h12
MARIANA BOMFIM
COLLABORATION FOR FOLHA
Find below the main attractions of Salvador, one of 12 host cities for the World Cup in Brazil.
As the hours of operation may change on game days, it is advisable to confirm the schedule before planning a visit.
See also hotels with openings for the event period (June 12 to July 13).
Some are already sold out on a few dates. For this reason, it is not recommended to wait until the last minute to book. Fifa site includes other accomodation options.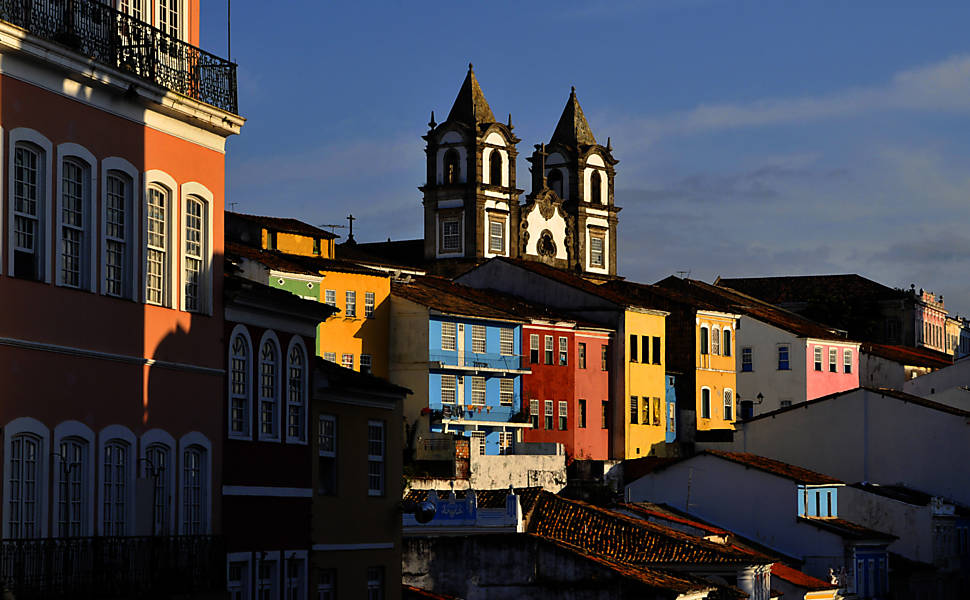 1- Pelourinho
Pelourinho is the name of a public place where criminals were tight on stone columns to be flogged. During the slavery era, where blacks received punishment. In Salvador, the Pelourinho area is surrounded by mansions and historic churches, in colonial style, reminiscent of the time when the city was Brazil's capital.
José Alencar Square and adjacent streets, phone (71) 3103-3103.
2- Lacerda Elevator
Historical construction that connects the Lower Town to Pelourinho, has two towers with four cabins. It is used as public transport and, at the top of its 73 m, it is possible to contemplate the Mercado Modelo and the Bay of All Saints. The name is a homenage to the engineer who designed it, Augusto Frederico de Lacerda.
Tomé de Souza Square, Upper Town, phone (71) 3103-3103. Mon-Fri 7am-7pm. Sat. and Sun. 7am to 1pm. US$ 0.11 a ticket.
3 - Mercado Modelo
The "Mercado Modelo" offers a variety of handmade products such as hammock, musical instruments, baskets, weaving, jewelry, decorative objects and religious pieces. Upstairs, there are restaurants serving Bahian food.
Viscount de Cayru Square, 250, Comércio, phone (71) 3241-0242. Mon-Sat. from 9am to 7pm. Sun, 9am to 2pm
4 - Modern Art Museum
Located in the Conjunto Arquitetônico Solar do Unhão, is one of the most important cultural centers in Bahia.
Av Contorno, Solar do Unhão, phone (71) 3117-6141. Tue-Fri from 1pm to 7pm. Sat. Sun. and holidays from 2pm to 7pm Free.
5 - Barra Lighthouse
Barra Lighthouse, as it is known St. Anthony fortress, was built in 1627 as requested by Governor Francisco Nunes Navy to defend against the Buccaneers. One of the symbol monuments of Salvador, the building houses the Nautical Museum of Bahia, with a panoramic view of Salvador and the sunset.
Largo Farol da Barra, Barra, phone (71) 3264-3296. Tue-Sun. 8:30 to 7pm US$ 4.4
6 - São Francisco Church and Convent
Built in the early 18th century, the building is one of the greatest expressions of baroque art in Brazil. Inside there are Golden carvings and tiles that portrey St. Francis' life.
Largo do Cruzeiro de São Francisco, Pelourinho, phone (71) 3322-6430. Mon-Sat., from 9am to 5pm. Sun. 10am to 3pm US$ 2.2.
7 - Dique do Tororó
It consists of a water mirror with about 110 thousand square meters. In 1998 12 sculptures of deities called "orixás", created by artist Tati Moreno, were installed .
Access by Avenues: Barris, Centenário, Bonocô and Nazaré, phone (71) 3334-1703. Mon to Fri. from 4:30pm to 12am. Sat. and Sun, from 12am to 12pm.
8 - Dinha's Acarajé
The stand fame remains even without Dinha, the Lindinalva of Assisi, who died in 2008. Her daughter, Claudia, continues to serve acarajé with shrimp (US$ 3) and without shrimp (R$ 2.2) - be careful with the chili.
Stand at Largo do Santana, Rio Vermelho, phone (71) 3334-1703. Mon to Fri. from 4:30pm to 12am. Sat. and Sun. from 12am to 12pm.
*
WHERE TO STAY
Price per couple, with breakfast
Sheraton: US$ 224 to US$ 426
(71) 3021-6700;site
Bahia Othon Palace: US$ 166
0800-7250505;site
Grande Hotel da Barra: US$ 56
(11) 4872-5201; site
Atlântico Hotel: US$ 231
(11) 5041-3962; site
Pestana Convento do Carmo: US$ 311 to US$ 565 (per person)
(71) 3327-8400; site
*
FONTE NOVA STADIUM GAMES
1st Phase
Spain vs. Netherlands
June 13, 4pm
Germany vs. Portugal
June 16, 1pm
Switzerland vs. France
June 20, 4pm
Tickets for people with disability (US$ 80)
Bosnia and Hercegovina vs. Iran
June 25, 1pm
There inflows of £ 180 to £ 350 and Disabled ( US$ 80 )
Quarter-final
July 1, 5pm
Tickets for people with disability (US$ 80)
Quarterfinals
July 5, 5pm
Information on this page was checked on Tuesday (day 22); some hotels do not have availability for all days of the World Cup; there are fees on daily rates
Translated by SIMONE PALMA