Latest Photo Galleries
Signs of Tension
Published on 04/11/2016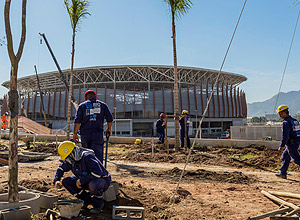 Rio: a City in Metamorphosis
Published on 11/19/2015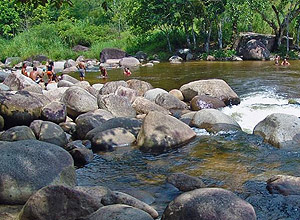 Crystal Unclear: A Future for Water Resources in Brazil
Brazilian Markets
15h04

Bovespa

+1,70%
110.703

16h43

Gold

0,00%
117

15h03

Dollar

-1,05%
5,2760

16h30

Euro

+0,49%
2,65250
Alter do Chao, in Northern Brazil, Has White Sand Beaches Along River Tapajós
08/07/2014 - 09h19
ANTONELLA KANN
CONTRIBUTOR FOR FOLHA, FROM PARÁ
Only 37km separates Santarém airport, in the state of Pará, from a fishing village that can surprise those who have traveled around Brazil and the world.
Although Alter do Chao is little known in Brazil it has recently been chosen by British newspaper "The Guardian" as Brazil's most beautiful beach, the country's answer to the Caribbean.
The setting is framed by white sand beaches along the bank of River Tapajós - which is in turn so large that it looks like a sea of pristine, warm and calm waters.
The lifestyle in the village is simple and there are no pressures of transforming Alter into a popular destination.
Nevertheless, the village has become very eclectic since the arrival of foreigners - especially Europeans - began. Many decided to stick around and small businesses began springing up around the village.
This influx of people also contributed to the opening of charming inns.
Slowly, all of these businesses added a pinch of allure to the already picturesque scenery of Alter, and, of course, had an impact on the development of quality tourism infrastructure.
At dusk a miniature tower of Babel gathers around the village square where Spanish, English, French and Italian can be heard mixed up with the sounds of carimbó, a local musical genre popular across the entire state of Pará.
425921
CARURU AND TACACÁ
Boat tours and visits to igarapés (streams derived from the Amazon basin) are two possible daytrips.
When the river does not attract tourists, the focus of the attentions is switched to the surrounding area of 7 de Setembro Square where the bandstand, the handicrafts and the local food and beverage stalls are located, as well as restaurants, bars, a small supermarket, a pharmacy and a church.
This part of the village is constantly buzzing with people, even at noon when the heat is unbearable.
If one's aim is to shop then the indigenous handicrafts are the most interesting items to be found at the fair.
Different cultures come together even when it comes to cuisine, with menus in Portuguese but also available in foreign languages.
You will be able to try everything from a caruru - made from an okra stew with pieces of chicken or meat - to a daring dessert, like a cheesecake served in a cup and topped with Brazil nuts.
Fancy something more unique? Ramble through the stalls and try tacacá, an indigenous dish made with tucupi (a wild manioc broth) and dried prawns.
Translated by CRISTIANE COSTA LIMA