Latest Photo Galleries
Signs of Tension
Published on 04/11/2016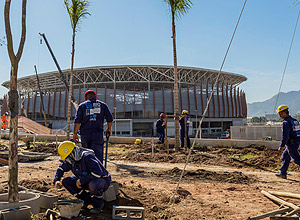 Rio: a City in Metamorphosis
Published on 11/19/2015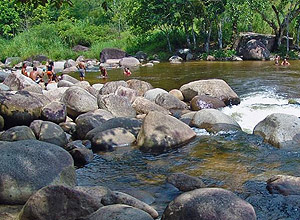 Crystal Unclear: A Future for Water Resources in Brazil
Brazilian Markets
13h03

Bovespa

+1,41%
110.384

16h43

Gold

0,00%
117

13h06

Dollar

-0,86%
5,2860

16h30

Euro

+0,49%
2,65250
Historic Cities of Minas Gerais Join Styles and Carry Original Features
08/25/2016 - 11h57
THAÍS NICOLETI DE CAMARGO
SPECIAL ENVOY TO MINAS GERAIS
The first thought that comes to mind when speaking of art in Minas Gerais is the historic heritage of the gold cycle which is especially visible in the state's religious architecture.
When visiting the historic cities of Minas Gerais, it is hard not to be charmed by the many churches of the colonial period, whose enormous variety of details alone is stunning and can take us back in time as if by magic.
To enjoy a trip to the cities of Ouro Preto, Mariana, São João del-Rei, Tiradentes or Sabará, for example, it is important to obtain some information that can help to distinguish elements used in the construction of the buildings.
Although the expression "Minas Baroque" became common, it hides the fact that the religious art of the Brazilian colonial period contains elements of both Baroque and Rococo styles. The latter was not considered a style itself for a long time.
In the religious art of Minas Gerais, the Baroque and Rococo elements are mixed with original features, which form a unique artistic production whose investigation attracts scholars from all over the world.
Certain circumstances helped elaborate the originality in this kind of art. The distance from the ports and the region's mountainous relief made it difficult for material imported from Lisbon, Portugal, to arrive in Minas.
Therefore, the artists in the region used soapstone and painted wood (which imitated the Portuguese tiles) instead of limestone and the tiles themselves.
The historic period also contributed with an equally important element. As the Portuguese rulers prohibited the establishment of religious orders in Brazil, then-colony of Portugal, because it feared that the wealth would be embezzled, the Christian third orders and sororities flourished in Minas.
These organizations were comprised of uneducated people, who were in charge not only of the promotion of religious rites but also the construction of new churches. The European influence would soon be replaced by local creativity.
HIGHLIGHTS
In Ouro Preto, one of the highlights is the São Francisco de Assis church, where the remains of artist Antônio Francisco Lisboa, also known as Aleijadinho, are buried along with those of his father, Manuel Francisco Lisboa. The church also houses the Aleijadinho Museum, where his works are kept.
In Tiradentes, the Matriz de Santo Antonio church is one of the main examples of the religious architecture of the colonial period in Minas.
In Mariana, one of the main highlights is the 'twin' churches - built side by side, the São Francisco de Assis (1763) and Nossa Senhora do Carmo (1784) churches are the perfect place for visitors to see more works by Aleijadinho and Mestre Ataíde.
BRUNO MOLINERO and MATEUS LUIZ DE SOUZA contributed
Translated by THOMAS MUELLO