Latest Photo Galleries
Signs of Tension
Published on 04/11/2016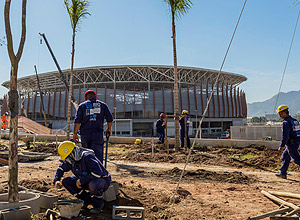 Rio: a City in Metamorphosis
Published on 11/19/2015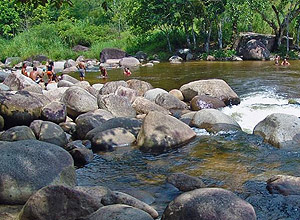 Crystal Unclear: A Future for Water Resources in Brazil
Brazilian Markets
17h31

Bovespa

-2,32%
108.844

16h43

Gold

0,00%
117

17h00

Dollar

+0,81%
5,3320

16h30

Euro

+0,49%
2,65250
Discover the Pantanal Cuisine
11/24/2016 - 12h39
LUIZA FECAROTA
SPECIAL ENVOY TO PANTANAL
To discover the cuisine of Brazil's Central-West region, it is necessary to become familiar with the huge variety of fish that live in the region's rivers, many of which have become a part of the people's everyday lives.
The fish are usually shown in one piece in the Mercado do Porto, in Cuiabá - customers can also find a wide range of greens, peppers, typical sweets and fruit.
The piranha fish, whose bones shine in the sunlight, produce sashimi served on wooden boats and broths known for their aphrodisiac powers.
There is also the piraputanga, with red meat, the fat pacu and the pintado (with very few bones, it is considered top quality meat).
All of these fish are prepared whole, on the hot coal of wood-burning stoves, which makes their skin crunchy and protects the meat, keeping it juicy.
At this time of year, fishing is not allowed in Pantanal because the fish are in breeding period.
"You will always find plantains, cassava and fish on the local people's tables," says chef Ariani Malouf, of Mahalo restaurant, who has lived in Cuiabá for ten years.
One of the most common combinations is the farofa made with flaked seasoned manioc flour and fried bananas, also found in dry beef stews.
Dry beef, in its turn, is an ingredient in one of the most typical dishes of Cuiabá, called Maria Izabel, a mix of dry beef and rice.
Some nostalgia involves the so-called pixé - ground peanuts mixed with cinnamon and sugar, traditionally wrapped in paper cones, which are still commonly found in Cuiabá.
Other delicacies are frequently found in the state of Mato Grosso, such as cashew sweets - the fruit is harvested at this time of year and its orange color makes the trees even more attractive.
Also, the furrundu - a green papaya sweet mixed with rapadura (raw brown sugar tablets) and rice cakes boost the breakfast and afternoon tea of the residents of Cuiabá.
In a home in Jardim Cuiabá, Stefano Pollacia, an Italian from the region of Lombardy, makes a type of cheese that respects his hometown's original recipe – Pollacia has won several awards for it in Brazil.
It is called the Mato Grosso Nostrano Braz, made from skimmed milk mixed with saffron flowers, which give it a distinct yellow color.
Journalist Fecarota travelled at the invitation of Mahalo restaurant.
Translated by THOMAS MUELLO