Latest Photo Galleries
Signs of Tension
Published on 04/11/2016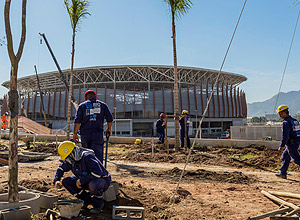 Rio: a City in Metamorphosis
Published on 11/19/2015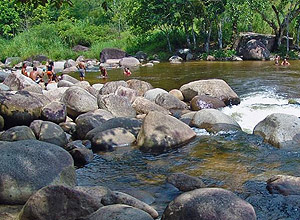 Crystal Unclear: A Future for Water Resources in Brazil
Brazilian Markets
17h35

Bovespa

+1,29%
110.250

16h43

Gold

0,00%
117

17h00

Dollar

-0,86%
5,2860

16h30

Euro

+0,49%
2,65250
Brazil "Abandons" Bridge Built in Partnership with France
02/26/2015 - 10h36
LUCAS REIS
FROM SÃO PAULO
Just 378 meters separate Brazil and France. But this short distance between the Brazilian state of Amapá and French Guiana - a French overseas department - has been a headache for authorities of both countries for the last 18 years.
Conceived in 1997 by the then presidents Fernando Henrique Cardoso and Jacques Chirac, the binational bridge linking South America to the European Union over the Rio Oiapoque has been complete since 2011. However, it has yet to be inaugurated, with no sign of when this might occur.
The bridge, which links the cities of Oiapoque, in Amapá, and Saint Georges de l'Oyapock, in French Guiana, remains closed, as Brazil has yet to come good on its half of the deal: finish building customs posts and connect the BR-156 highway to the bridge.
The cable-stayed bridge is 378 meters long, and was built at a cost of R$61 million (USD$21.4 million), which was divided between the two countries. It has been ready since 2011, when France completed the relevant infrastructure on its side of the border.
In the same year, the French also completed a highway of nearly 200km (124km) linking Saint Georges to the capital, Cayenne.
The infrastructure due to be constructed on the Brazilian side includes posts for the Federal Highway Police, the Federal Police, the Institute of the Environment and Renewable Natural Resources (Ibama), and the National Agency of Sanitary Vigilance (Anvisa), and is estimated to cost nearly US$4.6 million.
As well as this, the two countries also need to ratify an agreement regarding the transport of people and goods across the border.
"They need us a lot more than we need them", says Alcir Figueira Matos, director of the Amapá Development Agency. "French Guiana doesn't have much agriculture, for example. It would be an important commercial link, giving us access to the EU."
The Federal Government had set the inauguration for the end of 2013, with President Rousseff due to be present. However, it did not go through with the plan.
The Amapá state government says that the bridge may be inaugurated by the end of the year, but it declined to provide a date.
In a statement, the French Embassy in Brazil played down any tensions, but reemphasized that France has completed its part of the deal and that border staff have even been recruited.
Nobody at the National Department of Transport Infrastructure - the institution responsible for the outstanding construction work - was available for comment.
Read the article in the original language
Jorge Cardoso
The bridge links the cities of Oiapoque, in Amapá, and Saint Georges de l'Oyapock, in French Guiana