Latest Photo Galleries
Signs of Tension
Published on 04/11/2016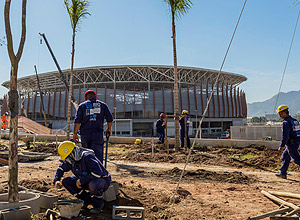 Rio: a City in Metamorphosis
Published on 11/19/2015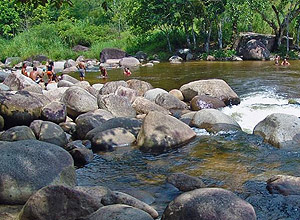 Crystal Unclear: A Future for Water Resources in Brazil
Brazilian Markets
17h33

Bovespa

+0,21%
110.581

16h43

Gold

0,00%
117

17h00

Dollar

+0,08%
4,8110

16h30

Euro

+0,49%
2,65250
My Story: Brazilian Lawyer Defends Central American Immigrants in the U.S.
06/26/2015 - 10h14
ALEXANDRE SOARES
COLLABORATION FOR FOLHA, FROM NEW YORK
Brazilian lawyer Natália Santanna, 30, lives in the United States since the age of 18 and works in immigration law.
As a volunteer, she advocates for families of undocumented immigrants, who run from the violence in Central America and are placed in detention centers in the South of the United States.
Santanna reports what she saw during her visit to one of these centers in the State of New Mexico. Read the statement below.
It was in summer of 2013 that I realized what was going on.
News began to emerge that thousands of immigrants, many of them minors, were fleeing from the violence in Central America and seeking refuge in the United States. Four of the five countries with the highest homicide rates are in Central America.
Last summer, when the government's response to this crisis came, I was very disappointed. President Barack Obama decided to resume the detention of families.
Most of these people were taken to a new detention center in Artesia, New Mexico. In the first five working weeks, the center deported 200 people. For many, the return was a death sentence.
I am a member of the San Francisco chapter of the American Immigration Lawyers Association (AILA) and I received an email saying they were organizing a group of volunteers to defend these immigrants. I've always done volunteer work and still accept pro bono clients. I decided I had to go.
The center was like a small town of metal trailers, but is actually a penitentiary, with barbed wire, checkpoints, full of security. We passed a dirty pond, with mosquitoes, and one of the agents joked: "Here is the resort".
They took us to the place where we were going to meet the families. I've never seen anything like it. There were only women and children. They were not used to the food they served, so they were thin. Many children were sick. They had flu. They were apathetic. I've never seen kids like those. According to the law, the government must ensure they go to school, but that didn't happen.
One of the women I heard had escaped from Guatemala with three children, an 11-year-old boy, a girl and a baby under one year. They had been threatened by a gang. She was one of the first to come to the center. She had been there for three months.
When we went to court, they told us they had no interpreter that day and it was postponed again. She didn't understand what they said, because they had spoken in English. When I explained, she started crying.
Another woman who I represented, from Honduras, had a four-year-old boy, who was sick, and would not stop coughing. She was a victim of domestic violence. Her companion was abusing her every day. When she tried to break up, he threatened to kill her. She went to the police, but they said they couldn't do anything. She escaped.
I stayed at the center for a week. I left with the feeling that there is a lot more to do. Earlier this year, the government closed the center in Artesia, but opened a new one in Dilley, Texas. I'm going there as a volunteer. It's really an important job. I think we're making a difference.
 
p(tagline). Translated by JULIANA CALDERARI
Read the article in the original language
Arquivo pessoal
Brazilian lawyer Natália Santanna, 30, lives in the United States since the age of 18 and works in immigration law