Latest Photo Galleries
Signs of Tension
Published on 04/11/2016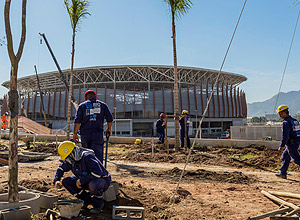 Rio: a City in Metamorphosis
Published on 11/19/2015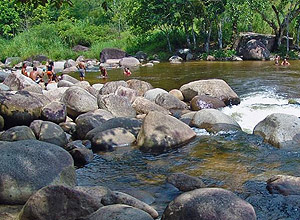 Crystal Unclear: A Future for Water Resources in Brazil
Brazilian Markets
18h30

Bovespa

-0,90%
82.921

16h43

Gold

0,00%
117

17h00

Dollar

+0,39%
3,7790

16h30

Euro

+0,49%
2,65250
Guantanamo Detainee Writes of Legal Limbo in Previously Unpublished Letters
07/01/2015 - 09h56
PATRÍCIA CAMPOS MELLO
FROM SÃO PAULO
"I spoke to my family on the phone ten days ago. It was a sad conversation. My city is at war."
Last time Samir Mukbel, 37, spoke with his lawyers by telephone, he was very worried about his family. The Yemeni village where his elderly parents live has become a bombing target during the country's ongoing civil war.
Mukbel is one of 43 Yemeni citizens who remain detained at Guantanamo Bay, in spite of them being formally "liberated." He is considered "low risk" by the American authorities, and his release has been authorized - but as he does not have anywhere to go, he remains trapped.
In total, there are still 116 prisoners at the American military base.
Folha had access to the letters Mukbel sent to his lawyers, the first time a Brazilian media outlet has obtained direct communication from a Guantanamo detainee. In some of the letters, he asks about his family; in others, he questions his legal status.
"Why can't the American government find countries to take people whose release has already been authorized? Is it because most of them are from Yemen, a poor country that nobody cares about? How does it make any sense for us to stay in fields 5 and 6 despite our release being authorized?" wrote Mukbel to his lawyers.
The Yemeni prisoners cannot be sent back to Yemen because of the country's ongoing civil war, and it is difficult to persuade other countries to accept them.
Cori Crider, a lawyer at Reprieve, an NGO that is supporting Mukbel and other Guantanamo prisoners, argues that Brazil could take some of the men, as neighboring Uruguay has done. Reprieve assists the host countries in receiving the former detainees.
"We would be honored to enter in partnership with the Brazilian government, were they to consider taking some of the prisoners. Brazil is a highly tolerant and diverse society, and it has a Muslim community," she says.
DETENTION WITHOUT CHARGE
Mukbel arrived in Guantanamo the day the prison was "inaugurated": January 11 2002. He was detained at Camp X-Ray, which became an infamous symbol of abuse, associated indelibly with images of hooded prisoners in orange jumpsuits being kept in tiny cages and threatened by dogs.
According to the American government, Mukbel was the bodyguard of Osama bin Laden, the Al-Qaeda leader responsible for the terrorist attacks which killed nearly 3000 people on American soil on September 11, 2001. Mukbel denies the accusation, and was never charged with a crime.
In January 2010, an American government taskforce authorized Mukbel's return to Yemen in the event that conditions in the country improved, or if not, then his transfer to a third country.
The detainee can only speak to his family every three months. His relatives live in an unstable area of Yemen, which has suffered bombing, and they have difficult access to the Red Crescent office from where they can call.
Aside from that, Mukbel's only contact with the outside world are letters and phone calls to his lawyers, when they are authorized.
Mukbel starting working at 12 years of age, in a plastics factory. At 23, he was still working there, earning just US$50 a month. He decided to move to Afghanistan, where a friend of his had told him that lots of work was available.
He did not find work there, and soon after his move, the United States invaded the country. Mukbel tried to flee to Pakistan, where he was captured and handed over to the Americans by local security forces.
In Guantanamo, after being detained for more than ten years without charge, he went on hunger strike. In 2013, he published an article through his lawyer in The New York Times about the force-feeding of detainees.
His dream is to marry, have children and work on the land.
To read more of Mukbel's letters, and other testimonies from the camp, visit Folha's multimedia special "Cartas de Guantanamo".
Translated by TOM GATEHOUSE