Latest Photo Galleries
Signs of Tension
Published on 04/11/2016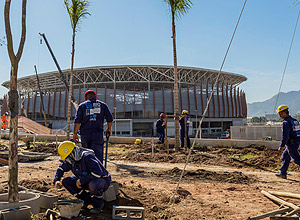 Rio: a City in Metamorphosis
Published on 11/19/2015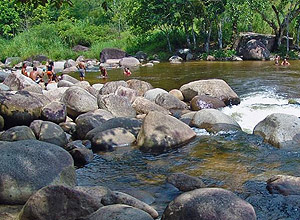 Crystal Unclear: A Future for Water Resources in Brazil
Brazilian Markets
17h39

Bovespa

-1,10%
113.794

16h43

Gold

0,00%
117

17h00

Dollar

+0,57%
5,2660

16h30

Euro

+0,49%
2,65250
Brazilian Armed Forces Depend Too Much on Israeli Technology, Says Former Minister of Defence
12/25/2015 - 10h28
PATRÍCIA CAMPOS MELLO
FROM SÃO PAULO
The discomfort caused by the Brazilian government's decision to postpone indefinitely the approval of the new Israeli Ambassador in the country, Dani Dayan, shows that "it's time the Brazilian Armed Forces reduced its dependence on Israel," says Celso Amorim.
Amorim, who was Brazil's Minister of Foreign Affairs (2003-2011) and, more recently, Minister of Defence (2011-2015), believes the country dependence on Israeli military technology, especially regarding "avionics" - electronic equipment used in airplanes, satellites, drones and others - is excessive.
"We can't continue to be overly dependent on Israeli technology. It's time to diversify our suppliers," said Amorim to this newspaper.
The army criticised the decision to refuse Dayan's nomination. He waits since early August to get his "agrément" (green light) to be the new Ambassador of Israel in Brazil.
The reason for the holdup could be the fact that Dayan led the Yesha Council from 2007 to 2013. The council represents 500-1000 Israeli settlers in the West Bank and East Jerusalem. Brazil is against the settlement policy, which makes impossible the existence of the states of Israel and Palestine.
In an interview to this newspaper this week, a high member of the Brazilian Armed Forces said that the impasse could disrupt the transfer of technology between the two countries.
"It's a lack of geopolitical vision and objectivity of action. For the Armed Forces, it was a very sensitive situation since our partnership with Israeli high-tech firms is huge ", said the military.
EXCHANGE
According to data from the Ministry of Development, in 2014, Israel exported to Brazil US$ 10.527 million in spare parts for airplanes and helicopters and US$ 1.83 million in instruments for aviation and space navigation.
In the same year, the army bought one Israeli drone for US$ 8 million.
Amorim said to be in favour of the intensification of commercial relations with Israel, "so that it was during my management that the Mercosur signed a free trade agreement with the country. Signed in 2007, it took effect in 2010".
However, using the export of technology as a factor of pressure is not acceptable.
"To accept as Ambassador a person who was a leader of settlement policies in Israel would be a tacit acceptance of this policy, to which Brazil opposes. It's not possible to approve this Ambassador, "said Amorim.
Moreover, aaccording to the Minister, his nomination was made as a fait accompli. The Israeli Ministry of Foreign Affairs announced his name publicly before communicating it to the Brazilian government.
The Brazilian Ministry of Foreign Affairs is allegedly waiting for another nomination to replace Dayan.
Translated by JULIANA CALDERARI
Read the article in the original language
Hector Retamal/AFP
Celso Amorim was Brazil's Minister of Foreign Affairs (2003-2011) and, more recently, Minister of Defence (2011-2015)