Latest Photo Galleries
Signs of Tension
Published on 04/11/2016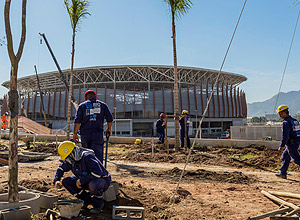 Rio: a City in Metamorphosis
Published on 11/19/2015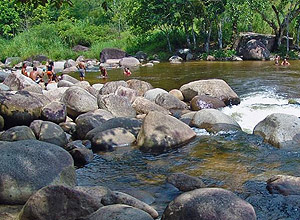 Crystal Unclear: A Future for Water Resources in Brazil
Brazilian Markets
18h20

Bovespa

-1,52%
78.898

16h43

Gold

0,00%
117

17h00

Dollar

+0,54%
3,6690

16h30

Euro

+0,49%
2,65250
Brazilians Pretend to Be Foreigners to Get Girls at World Cup Parties
06/23/2014 - 08h56
MÔNICA BERGAMO
FOLHA COLUMNIST
"Hi. How are you?" That is the first sentence that car salesman Igor Mendes, 26, says, catching his breath, to reporter Marcela Paes during one of the late night parties in Vila Madalena, a bohemian neighborhood in São Paulo that has become a meeting point - crowded with Brazilians and foreigners during the World Cup.
*
"Where are you from?" he adds, after saying he is Scottish. But he soon slips. "I speak English more or less." How so? English is the official language of Scotland. He then comes clean: he is pretending to be a foreigner to hit on girls at the party. "I don't do it with all the girls, just the special ones," says Mendes, who has recently broken up with his girlfriend of eight years.
Sentences in bad English and "Portunhol" (a mix of Portuguese and Spanish) and basic greetings in French and Italian ("que beeela!" is heard constantly) have become Brazilians' weapons to get Brazilian girls. "We normally get girls. We get even more when speaking English. It works 90% of the time. Women like money, and foreigners have it," says Daniel Tavares de Araújo, 29, a sales representative.
*
Loud music - funk, techno and samba - coming from the speakers in the trunks of cars in the streets help Tavares and his friends Reno Bellizzia, 26, and university student Matheus Petroni, 26, to fool the ears of distracted women. Shirtless, they spend the night trying to get young women in the neighborhood.
*
"There is also the adventure," says Petroni. "Women seek the unknown, to be with someone they will never see again," he told reporter Joelmir Tavares.
*
Many tried several languages, depending on the appearance of the woman they approached. "Hola. Chilean? American? Do you speak English?," attempted Leonardo Quintas, 19, a student of engineering at Unip (Universidade Paulista), on Wednesday night.
*
He gets so carried away as he speaks of his "character" that, before posing for a picture, he borrows a London soccer team Westham United jersey from a British man. Quintas says that speaking English or Spanish surprises Brazilian women. "I'm sure of it. They are used to Portuguese and so you catch them off guard."
*
Staying in character is a challenge. It's not always possible as many women speak foreign languages. "But, if it works for a split second, it's worth it. In fact, it has been worth it," he says and guarantees he has been successful with at least one Brazilian woman.
*
Student Thais Iwanow, 21, says she has been tricked by a fake foreigner. "I didn't kiss him, but we talked for a long time. I noticed he was faking because of a stupid detail! So I told him to get lost!" She is now more cautious. "Now I turn my back on any guy who approaches me speaking English!" But she makes exceptions. "I'll kiss the guy if he's really cute, even though I know he is pretending."
*
Amid some pushing and shoving, administrative assistant Joaquim Souza, 22, disapproves of those who pretend to be foreigners. He says some friends used the trick even before the World Cup. "I think it's ridiculous. It's totally off the wall. What about nationalism? Come on, this is Brazil!"
*
Camila Marinho, 27, shares the same opinion. "I prefer Brazilians! The way they hold you is much better." Marinho, a hotel management student, says those who think they are smarter by pretending they are tourists are actually making a fool of themselves. "When I lived in Australia, I only dated Brazilians," she says.
*
Some just want to enjoy the world gathering. "We like foreigners. After the World Cup, there will only be Brazilians left," says student Inêssa Pasquini, 30, with her friend Thais Moraes, 27. They believe the winners in the locals vs. foreigners match are those who "are well-spoken and polite." Thais complains that "Brazilians just want to make out!"
Translated by THOMAS MUELLO