Latest Photo Galleries
Signs of Tension
Published on 04/11/2016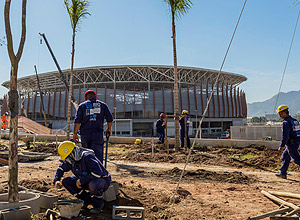 Rio: a City in Metamorphosis
Published on 11/19/2015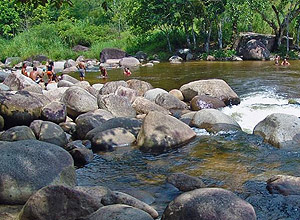 Crystal Unclear: A Future for Water Resources in Brazil
Brazilian Markets
17h29

Bovespa

-3,04%
110.124

16h43

Gold

0,00%
117

17h00

Dollar

+0,87%
5,4260

16h30

Euro

+0,49%
2,65250
Suzane Richthofen, Sentenced for Murdering Her Parents, to Marry Female Prisoner
10/29/2014 - 08h59
ROGERIO PAGNAN
FROM SÃO PAULO
The nearly 12 years in prison were life-changing for the former student Suzane von Richthofen.
Sentenced to 38 years and six months for murdering her parents in October 2002, behind bars, Suzane became an evangelical and adviser to other inmates.
Now, she is also starting a new life.
She gave up fighting for her inheritance. She has tried to reconnect with her brother and since September, she has been married.
Suzane has switched from the evangelical wing, where she had always stayed, while in Tremembe's prison (São Paulo State), and began to inhabit the large married cell, sharing the space with eight other couples.
To be able to sleep with her new love, the former student had to sign a document recognizing a committed relationship, a document required for all prisoners who decide to live together.
In Tremembe this paper works as a marriage certificate. It allows for marital living, but also imposes some rules of coexistence to the couples.
After signing this commitment, for example, if they separate, the inmate cannot return to the special cell - meant for couples -in a period of six months.
Suzane's wife, Sandra Regina Gomes, sentenced to 27 years in prison for the kidnapping of a businesswoman in São Paulo, had to comply with the rules in order to remarry.
Earlier this year, Sandra had married to the famous Elize Matsunaga, 32, arrested for killing and dismembering her husband Marcos Kitano Matsunaga, 41, in June 2012.
The relationship between Elize and Sandra finished, according to reports from people connected to the former couple, precisely because of Suzane.
The three worked in the prison garment factory where Suzane occupies a leading position. The love triangle broke the friendship between them.
The new love is identified as one of the reasons for Suzane to have given up the right to spend her days out of prison.
Last August, Judge Sueli de Oliveira Armani, from Taubaté (140 km from São Paulo) gave what is called a "progressive sentencing".
Her lawyers had tried that decision since late 2008 and early 2009. Surprisingly, Suzane asked the magistrate to postpone the change, to a semi-open sentencing system.
If it were now, she would have to go to another unit, as the Tremembe prison only allows to receive inmates from a close system.
When she was arrested, Suzane was dating Daniel Cravinhos de Paula e Silva, 21. It was in the name of this love that they both planned the death of her parents.
The girl's father would not accept this relationship because Daniel was neither studying nor working. To make the plan work, they had the help of Daniel's brother, Cristian.
All were convicted. The brothers were convicted in semi-open regime. Prosecutors believe she was the mastermind behind the crime.
Translated by SIMONE PALMA