Latest Photo Galleries
Signs of Tension
Published on 04/11/2016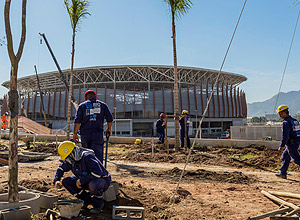 Rio: a City in Metamorphosis
Published on 11/19/2015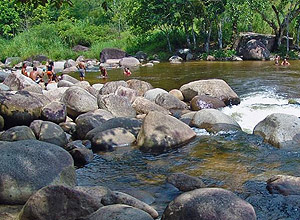 Crystal Unclear: A Future for Water Resources in Brazil
Brazilian Markets
17h33

Bovespa

+0,63%
107.537

16h43

Gold

0,00%
117

17h00

Dollar

-1,29%
5,6190

16h30

Euro

+0,49%
2,65250
Cuba Urges Staff on Brazil's More Doctors Scheme to Send Relatives Back
03/13/2015 - 09h07
CLÁUDIA COLLUCCI
FROM SÃO PAULO
The Cuban government is pressurizing Cuban citizens working in the Brazilian government's program More Doctors (Mais Médicos), kick started by President Dilma Rousseff, to send their families (spouses and children) back to Cuba immediately.
If they do not comply, the Cuban government has threatened to replace them with doctors who have already been selected and are waiting for vacancies to open.
Until December last year, out of 14,462 professionals working in the scheme, 11,429 -almost 80%- were Cubans. There is no estimate of how many have brought their families to Brazil.
The Deputy Health Minister of Cuba, Cristina Estela Morales, has seen to the matter personally in addition to her interlocutors, who have been meeting with Cuban doctors in several Brazilian cities. Her involvement was confirmed to Folha by eight Cuban doctors and two More Doctors supervisors.
Cuba's main argument, according to what the research found, is that the contract between Cuba and the doctors states that they can receive visits from relatives, but not bring them to live with them.
But in the contract there is no set time limit for visits. The Brazilian government grants the families of Cuban doctors a residence permit of 36 months, the same time given to doctors.
The Ministry of Health says that from a legal point of view, there is nothing to prevent these families from staying in Brazil. Article 18 of the More Doctors law predicts the arrival of dependents.
The Cuban government has gradually relaxed its travel restriction for citizens since January 2013, and now they no longer need prior authorization.
On Saturday (7), the Cuban Health Deputy Minister was in the city of Jandira (SP). Between 1pm and 4pm he talked to doctors and said there are 530 professionals on the island waiting to be put on the program.
"The message was clear. If the family does not go back, we will be replaced," said a doctor who spoke anonymously.
There are cases where husband and wife are doctors on the program and have young children. "We have two couples of friends who have children of three and six years old and are being pressured to send the children back, alone, to Cuba," another person said.
"They want my husband back. He has been employed for four months, with a formal contract. It's not fair. We are here legally," said a Cuban doctor who works in the Greater São Paulo.
Another doctor fears a separation from her husband and seven year old son. "My husband works in a packaging factory and my son attends a bilingual school (Portuguese and Spanish). If they are forced to return, I will go with them."
The national coordinator of the More Doctors program, Felipe Proenço said that he has learned, albeit unofficially, about complaints by Cuban doctors on Wednesday (11), but the resolution is beyond the scope of the Ministry of Health.
According to him, the ministry oversees the activities of the Cuban doctors in the workplace, but has no power to interfere with their contractual relationship with Cuba and PAHO - a ramification of the World Health Organization who brokered the coming of Cuban professionals to Brazil.
Translated by CRISTIANE COSTA LIMA