Latest Photo Galleries
Signs of Tension
Published on 04/11/2016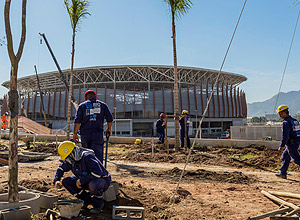 Rio: a City in Metamorphosis
Published on 11/19/2015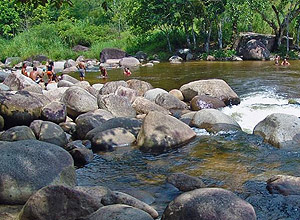 Crystal Unclear: A Future for Water Resources in Brazil
Brazilian Markets
18h25

Bovespa

-0,86%
125.053

16h43

Gold

0,00%
117

17h00

Dollar

-0,01%
5,2100

16h30

Euro

+0,49%
2,65250
Case of Prisoner Caught with 3 Grams of Marijuana Guides Definition of Drug Possession in Brazil
08/12/2015 - 10h07
LUCAS FERRAZ
FROM SÃO PAULO
A marijuana case from July 2009 inside the provisional detention center of Diadema (SP) will guide the STF's (Supreme Court) verdict on Thursday (13) which will decide whether drug possession for personal use is a crime or not.
Based on the punishment imposed on the detainee, a 55 year old mechanic, the Court will discuss the constitutionality of the article that criminalizes the possession of narcotics in the Anti-Drug Law.
During the routine inspection of a cell that housed 33 people, agents found marijuana inside a takeout container. Francisco Benedito de Souza, the prisoner who accompanied the inspection, claimed it was his–later, in court, he would deny the claim.
Francisco arrived at the greater SP prison a month before he was caught with the three grams of the drug. With an extensive criminal record (arms possession, robbery, contraband), he was sentenced to more than 10 years in prison.
In February 2010, the prisoner was brought to trial for the new crime, drug possession for personal use, as provided for in Article 28 of the Anti-Drug Law since 2006.
The defense was led by public defender Leandro Castro Gomes, 31.
"I pleaded unconstitutionality, no one can be punished for a personal decision, one which does not interfere with or endanger the rights of others. That is, I claimed that it was not a crime to possess drugs for personal use", argued Gomes, currently stationed at the Public Defender's Office of Taubaté (SP).
At the hearing, he asked for a simple warning for the defendant, emphasizing his status as prisoner and habitual offender.
"Everyone in the room looked at me, horrified, and couldn't help but laugh. 'Doctor, it means you can now smoke a joint, right?". I said that at least a crime it certainly wasn't", recalled the defender.
During sentencing, Judge Patricia de Toledo warned of the "potential harm that [the defendant] could generate in the community". For her, "no matter how small the quantity", he should be convicted to avoid "becoming a dealer or an addict".
Francisco will receive one more punishment: two months of community service. The defender made an appeal to the Special Court of Diadema in June of the same year, but lost once again.
Influenced by the decisions of international courts, such as Argentina, which decriminalized drug possession in 2009, the defender presented the appeal to the Supreme Court.
"I just wanted to exhaust all resources, I never imagined this consequence", he said, regarding the trial due to start on Thursday (13).
Translated by SUGHEY RAMIREZ