Latest Photo Galleries
Signs of Tension
Published on 04/11/2016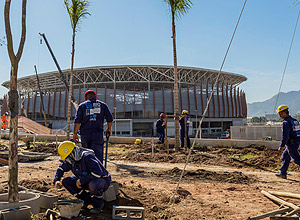 Rio: a City in Metamorphosis
Published on 11/19/2015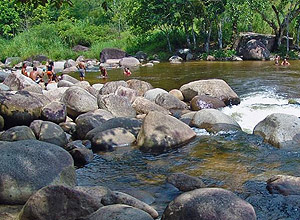 Crystal Unclear: A Future for Water Resources in Brazil
Brazilian Markets
17h34

Bovespa

+0,67%
126.580

16h43

Gold

0,00%
117

17h00

Dollar

-0,56%
4,8713

16h30

Euro

+0,49%
2,65250
Evidence Shows Lula Received Embezzled Money from Petrobras, Prosecutor Says
03/04/2016 - 16h26
BRUNO FÁVERO, FLÁVIO FERREIRA, BELA MEGALE and RENAN MARRA
FROM SÃO PAULO
MÔNICA BERGAMO
FOLHA COLUMNIST
NATUZA NERY
PANEL EDITOR
This morning (4), the Federal Police kicked off Phase 24 of the money laundering investigation Operation Lava Jato at the home of former president Luiz Inácio Lula da Silva and his son Fábio Luíz Lula da Silva -also known as Lulinha. That phase of the operation, also known as Aletheia, discovered that contractors and cattleman José Carlos Bumlai granted Lula favors through the Atibaia site and the triplex in Guarujá.
Zanone Fraissat/Folhapress
Ther former president was the target of search and arrest warrant and a coercive warrant.
In their most forceful demonstration since the start of Operation Lava Jato, the Federal Public Ministry's Task Force said in a statement that the former president Luiz Inácio Lula da Silva was "one of the main beneficiaries" of the crimes committed under Petrobras.
The prosecutors' statement, which details the actions of Phase 24 of Lava Jato, carried out this Friday (4), says there is evidence that the former president received state funds through the rehabilitation of a triplex apartment in Guarujá, a site in Atibaia as well as through donations and lectures.
Lula was the target of a coercive warrant (when the person being investigated is brought in to testify and then let go) at his apartment in São Bernardo do Campo and was escorted to Congonhas airport in São Paulo.
The Federal Public Ministry's statement says that, through the 23 phases of Lava Jato, "evidence piled up" supporting the idea that Petrobras executives, employees and political parties were lining their pockets.
The scheme, the statement says, was led by leaders of the parties that make up the government, especially the PT (Workers' Party), the PMDB (Brazilian Democratic Movement Party) and the PP (Progressive Party).
Through members of the former president's defense, the Folha learned that Lula was taken to Congonhas airport (blue zone), where he is expected to testify before the Federal Police. Congonhas would be a safer place for Lula to testify.
The information available up to now suggests that he will not be taken to Curitiba (PR). Orlando Silva (Brazilian Communist Party) is already at the airport. There are reports that a convoy like the one that escorted Lula has already arrived at the site.
Ther former president is the target of search and arrest warrant and a coercive warrant (when the person being investigated is obligated to testify). His lawyers had entered with habeas corpus to prevent the measure, but it is only valid in São Paulo, and not in Curitiba, where the Federal Judge functions, according to information received by the Folha.
Lula responded well when the Federal Police knocked on his door. According to reports, the Workers' Party member remained "calm" from the moment they arrived and through the coercive warrant.
Translated by
Read the article in the original language