Latest Photo Galleries
Signs of Tension
Published on 04/11/2016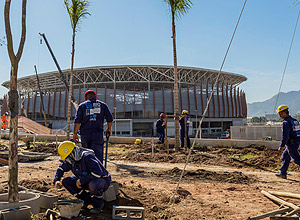 Rio: a City in Metamorphosis
Published on 11/19/2015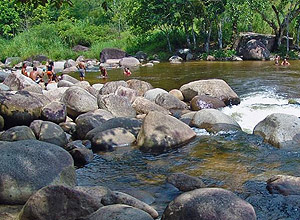 Crystal Unclear: A Future for Water Resources in Brazil
Brazilian Markets
18h17

Bovespa

+0,66%
129.265

16h43

Gold

0,00%
117

17h00

Dollar

-0,96%
5,0220

16h30

Euro

+0,49%
2,65250
Lula and Marina Silva Lead Polls for 2018 Elections; PSDB Candidates Trail
04/11/2016 - 10h25
Former president Luiz Inácio Lula da Silva (Workers' Party) and Marina Silva (Rede Sustentabilidade- Sustainability Network) currently lead opinion polls of voting intentions for the presidential elections in 2018.
Ratings for all three of the most prominent figures from the Brazilian Social Democracy Party (PSDB) - the senators Aécio Neves and José Serra and the São Paulo state governor Geraldo Alckmin - have fallen.
According to the latest Datafolha poll, in three out of four potential situations investigated, Lula and Silva are tied within the statistical margin of error. In the other situation, Lula is ahead.
Compared to the previous survey, in March, Lula's ratings improved in three of the potential situations, returning to his February levels. Silva's ratings are stable in all hypotheses.
For example, in a hypothetical contest between Lula, Silva and Neves, Lula is on 21%, Silva on 19% and Neves on 17%.
Since mid-December, Neves has lost ten percentage points, while Lula and Silva's ratings have remained stable. Likewise, Neves' PSDB colleague Geraldo Alckmin has seen his ratings fall by five points during the same period.
In the simulation of the dispute between Lula, Silva and Neves, Datafolha also included the far-right congressman Jair Bolsonaro of the Social Christian Party (PSC), for whom 8% of those surveyed said they would vote. Bolsonaro's ratings have doubled since December.
If José Serra were the PSDB candidate, Silva and Lula would tie on 22% each, double the rating of just 11% for Serra, who has fallen four percentage points since February.
In all the hypotheses tested for 2018, vice-president Michel Temer, who would become president if President Rousseff is impeached, is on just 1% or 2%.
The survey shows that if Rousseff is indeed impeached, just 16% believe that a Temer administration would be good or excellent, a figure unchanged from the last survey in March.
ELECTORAL REJECTION
Datafolha also measured the level of rejection of each candidate. As in the last surveys, Lula's rejection ratings are highest. 53% of those surveyed said they would not vote for him under any circumstances. While this rating has fallen since March (when it was 57%), it remains above the figure for February (49%).
Both Neves and Temer's rejection ratings are increasing. 33% said they would not vote for Neves (up from 23% in February and 32% in March), while 27% said the same of Temer (up from 21% in February and 23% in March). Silva's rejection rating is 20%, up from 15% in February and March.
PROTESTS
Two-thirds of those surveyed (66%) are in favor of the pro-impeachment protests. Attitudes towards the anti-impeachment movements are divided: 45% are in favor, while 47% are against.
Datafolha also asked respondents whether they had ever had an argument, with friends or relatives, for political reasons.
Three out of four (74%) said no. Arguments are most common between young people aged 16 to 34 (32%) and more highly educated people (42%). But for 95%, these arguments did not lead them to break off relations.
Translated by TOM GATEHOUSE