Latest Photo Galleries
Signs of Tension
Published on 04/11/2016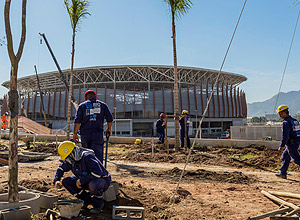 Rio: a City in Metamorphosis
Published on 11/19/2015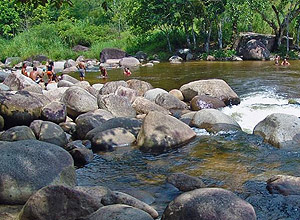 Crystal Unclear: A Future for Water Resources in Brazil
Brazilian Markets
13h10

Bovespa

-2,67%
100.074

16h43

Gold

0,00%
117

13h06

Dollar

+0,28%
5,3290

16h30

Euro

+0,49%
2,65250
Solitude and Lunch with Lula for Rousseff in Her Last Hours at Palácio do Planalto
05/13/2016 - 11h00
NATUZA NERY
FROM BRASÍLIA
There were no visits, only the employees who work at Palácio do Planalto, the official workplace of the President of Brazil were there.
Dilma Rousseff spent her last 48 hours before signing the instrument that removed her from office accompanied by advisors and former ministers.
No one else showed up – not even Roussef's family.
"We know that many have already abandoned us," said an outraged employee, looking discouraged, her head and shoulders weighing down.
Later, as she returned to Palácio da Alvorada, the official residence of Brazil's President, Rousseff could see that the place began to receive more people. The image of isolation was soon dissolved.
At Palácio da Alvorada, where she will live in the months before the final decision of her political fate, Rousseff had lunch with former president Luiz Inácio Lula da Silva and advisors to the president.
Lula was clearly downhearted, but slowly tried to lift his spirit.
In the previous days, he had personally tried to ensure that the President of the Senate, Renan Calheiros, would guarantee enough support for Rousseff so that she can manage to tread the road to the final decision on her impeachment.
Rousseff's mood was opposite to that of Lula. She seemed to speak in a playful way and made plans for the months ahead of her.
Former president Lula promised to return to Brasília next week to set up with Rousseff a schedule of appointments and trips across the country.
Rousseff will travel to Porto Alegre to rest for a few days. She will only resume working activities next Wednesday (18). She wants to use her days off to visit her grandchildren and take a few boxes to the two-bedroom apartment that she has in the neighborhood of Tristeza, a suggestive name for her address - if not ironic.
As the apartment is not big, Rousseff has begun to look for another apartment to rent in the same building. She will be living with her mother, Dilma Jane, if she is forced to return to Rio Grande do Sul when the definite ousting process ends.
Along the crisis, President Rousseff has hinted that she intends to attend operas and spend some time at book stores. Or, as she confided at some moments, to go back to the life she had before.
No one tells it to Rousseff, but everybody has and repeats the same opinion: Rousseff seems not to realize that she will not have a "normal routine" if she does not return to Palácio do Planalto. Some of her friends have even suggested that she spend some time abroad to relieve the stress.
MEA CULPA
The drawers of the president's official office had already been emptied out when the staff began to speculate on what the new boss would be like. "I've heard that he is polite," said a secretary. "No, that's not it, he's formal," said another employee.
At least both of them agreed on one point: their former boss had a hard time showing "tenderness."
Specialists on Rousseff always stress that she disliked apologizing. And they even took guesses on the reasons for that: she allegedly believed that recognizing mistakes conveyed weakness - and she hated the appearance of fragility.
On Thursday, May 12, it was not different. She made her farewell statement and only admitted that she "might have committed some errors."
During the most dramatic moments of the crisis, Rousseff always held her head up. It did not seem that she would break down at any moment during the farewell ceremony at Palácio do Planalto.
Former minister Kátia Abreu, on the other hand, could not hold her tears or hide her red face - Abreu was one of the few friends Rousseff made during the five and a half years the president was in power.
Rousseff is absolutely sure that history will find her not guilty, but deep inside, she does not have high hopes of returning to work at Palácio do Palanalto one day.
Translated by THOMAS MUELLO