Latest Photo Galleries
Signs of Tension
Published on 04/11/2016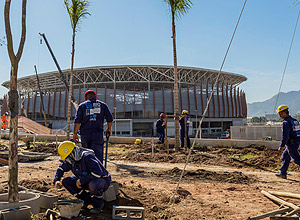 Rio: a City in Metamorphosis
Published on 11/19/2015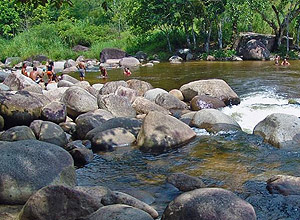 Crystal Unclear: A Future for Water Resources in Brazil
Brazilian Markets
13h35

Bovespa

-0,89%
127.044

16h43

Gold

0,00%
117

13h40

Dollar

+0,94%
4,9259

16h30

Euro

+0,49%
2,65250
Brazil Neo-Nazi Claim Challenges Myth of Nation's Racial Harmony
01/10/2017 - 14h26
JOE LEAHY
THE FINANCIAL TIMES
When Brazilian police investigator Paulo César Jardim launched a series of raids on the homes of alleged neo-Nazis in the southern state of Rio Grande do Sul, he unveiled a bizarre plot.
The country's simmering neo-Nazi movement, with its secret world of swastikas, hate propaganda and street violence, was being recruited by rightwing extremists in Ukraine to fight against pro-Russian rebels in the European country's civil war.
Ukraine's Misanthropic Division, an extreme right group aligned with the Azov Battalion, an ultranationalist paramilitary group aligned with Kiev, was behind the recruitment drive, Mr Jardim, Brazil's foremost neo-Nazi hunter, alleged.
One person was detained along with 47 9mm pistol shells in the December raids. He was later released. Police were still investigating whether any Brazilians had already joined the fighting in Ukraine, he said, declining to elaborate further on the probe. A spokesman for the Azov Battalion - now incorporated into the National Guard - said no Brazilians had fought for it.
"We became aware that someone had come from Europe - an Italian... had come to Brazil to recruit people for Ukraine," Mr Jardim told the FT. 
The revelation, if proven, that Brazil's underground ultranationalist movements are seeking combat experience overseas is a worrying development in a phenomenon that has shocked a country that considers itself a racial melting pot.
The rise of neo-Nazis in Brazil has challenged a popular myth that racism, at least the overt variety on display in the US and other western countries, does not exist in there.
With more than half the population claiming at least some African heritage, Brazilians pride themselves on the relaxed relations between the country's different racial groups.
But there have been a steady stream of attacks in recent years. Just last year, neo-Nazis attacked a punk band that championed gay and equal rights with knives and tomahawks.
While the far-right is still regarded as the fringe of politics in a country that freed itself from two decades of military dictatorship only in the mid-1980s, ultra-conservative politicians and their supporters are keen to fill a political vacuum that has developed after the August impeachment of former president Dilma Rousseff, analysts say.
Jair Bolsonaro, a far-right congressman and former Brazilian army captain, grabbed headlines last year for praising a known torturer from the dictatorship era. Also last year, a group of ultraconservatives invaded Congress and unveiled banners calling for the return of military rule.
Mr Bolsonaro has denied he is a neo-Nazi but critics accuse him of sharing many of the movement's views, such as racism and intolerance.
"I never imagined that [neo-Nazism] could be possible in Brazil because this is the country of football, the country of carnival... we are a happy people," Mr Jardim said. 
Avener Prado/Folhapress
The rise of neo-Nazis in Brazil has challenged a popular myth that racism, at least the overt variety on display in the US and other western countries, does not exist in there.
The stronghold of neo-Nazism in Brazil is the country's south and south-east, from Rio de Janeiro and São Paulo to Rio Grande do Sul, the regions that received the bulk of Brazil's German, Italian and Polish immigrants. 
While South America was also known for receiving Nazis fleeing from the defeat of Hitler`s Germany in the second world war, the neo-Nazi movements are unrelated to these individuals and mostly grew out of hate sites on the internet, experts say. 
Brazil, with a population of 200m, has 150,000 "sympathisers" involved in neo-Nazi movements, according to a paper by anthropologist Andriana Dias of Unicamp, a university. 
"The violence expressed by these groups, whether in physical attacks on blacks, Jews or homosexuals, or the dissemination of their hate literature... has in recent years demanded a lot of work... in terms of investigation and convictions," she wrote. 
One of the landmark cases occurred in Porto Alegre in 2005 on the 60th anniversary of the end of the Holocaust when a group of neo-Nazis armed with knives attacked Jews commemorating the event, seriously injuring several of their victims. 
In more recent cases, skinheads have targeted gays on Avenida Paulista, the main thoroughfare in São Paulo. In 2011, three skinheads were convicted for trying to kill four people, including a black person with a prosthetic limb, with clubs and knives. 
Since the 2005 attack in Porto Alegre, police in Rio Grande do Sul had adopted a more preventive approach, arresting and questioning suspects before they could hatch their plots, Mr Jardim said. There had been up to 50 indictments over the past 15 years, he added.
This was the approach used in the Ukraine investigation - called Operation Azov after the alleged involvement of the eastern European paramilitary group.  
Mr Jardim said that when he brought suspects in for questioning, as he did during Operation Azov, he often tried to convince them that their creed was out of place in a country whose heroes included World Cup footballers Ronaldinho, Ronaldo and Romário - all of them black. But they rarely changed their minds.
"These are not common criminals or robbers, they have an ideology. They are people who believe in ethnic cleansing, in racial purity," he said.
Additional reporting by Mark Rachkevych in Ukraine