Latest Photo Galleries
Signs of Tension
Published on 04/11/2016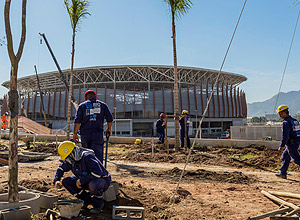 Rio: a City in Metamorphosis
Published on 11/19/2015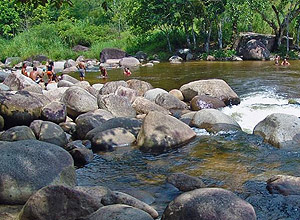 Crystal Unclear: A Future for Water Resources in Brazil
Brazilian Markets
10h19

Bovespa

-0,02%
99.138

16h43

Gold

0,00%
117

10h20

Dollar

+0,31%
5,3540

16h30

Euro

+0,49%
2,65250
Datafolha Poll Shows Ex-President Lula Leading in 2018 Voter Preferences and Far-Right Congressman Bolsonaro Maintaining Strong Growth
06/26/2017 - 12h16
Polls conducted by Datafolha regarding voter preferences for the 2018 Presidential election show former president Lula (PT Party) maintaining his lead, with 29% to 30% of voter preference, followed by Marina Silva (Rede Party) and Jair Bolsonaro (PSC Party).
The Federal Congressman is measuring an upward trend in voter preference. In December 2016, he had 8% of preference, which had increased to 14% by April of this year and he now polls 16%. All results consider the scenario of the PSDB Party candidate being Geraldo Alckmin, the Governor of São Paulo.
The PSDB Party candidate himself showed slight increases in simulations for both the first and second rounds, but his level of rejection also increased to 34%, second only to Lula.
Former Federal Supreme Court Justice Joaquim Barbosa (independent) polls in fourth place with 11%.
Under scenarios projected for an eventual runoff election, Lula beats Bolsonaro and both PSDB Party candidates, Alckmin or João Doria, the current Mayor of São Paulo.
The Workers Party (PT) candidate ties with both Marina and Judge Sergio Moro (independent) within the poll's margin of error of 2 percent.
PROJECTED SCENARIOS
Lula has been charged in the so-called Car Wash investigation with corruption and leading a criminal organization, in addition to other crimes, all of which he denies. He wins in all scenarios projected for the first round.
When he confronts Alckmin, the PT candidate gets 30% while the PSDB candidate gets 8%, finishing in third place. Tied for second place are Bolsonaro, with 16%, and Marina, with 15%.
The scenario when Doria is included is similar: Lula leads with 30%, Marina and Bolsonaro each get 15%, while the Mayor gets 10%.
When Joaquim Barbosa's name is included in the scenario, he gets the fourth position numerically, ahead of both PSDB Party candidates, but statistically tied.
Moro, on the other hand, gets second place (14%) tied with Marina (14%) and Bolsonaro (13%). Lula gets 29% and Alckmin loses position (6%).
The institute didn't include the names of President Michel Temer (PMDB Party) or Aécio Neves (PSDB Party) in its most recent polling conducted between the 21st and 23rd of June.
RATES OF REJECTION
With name recognition of 99% among Brazilians, Lula has the largest rate of rejection: 46% say that they would not vote for him under any circumstance. The level is similar to what was measured in April (45%).
Alckmin, in second place for negative ratings, has been accused by Odebrecht Corporation plea-bargainers of utilizing off-the-books campaign funding, which he denies. His level of rejection has increased from 28% to 34% currently. He has name recognition of 87% among the electorate.
Known by 63% of the electorate, the far-right congressman Bolsonaro is rejected by 30%. Moro, known by 70%, is rejected by 22%. Doria, a newcomer to electoral politics, is known by 59% and rejected by 20%.
Fernando Haddad, who is mentioned as the PT candidate in the case that Luiz Inácio Lula da Silva were impeded from running for the Presidency, polls 3% in voter preference. Known by 57%, the former mayor of São Paulo has a rejection rate of 28%.
Traducido por NATALIA FABENI
Marcelo Gonçalves/Sigmapress/Folhapress
A Datafolha poll regarding voter preferences shows ex-president Lula maintaining his lead, with 29% to 30% of voter preference