Latest Photo Galleries
Signs of Tension
Published on 04/11/2016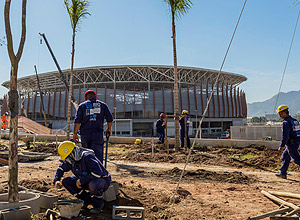 Rio: a City in Metamorphosis
Published on 11/19/2015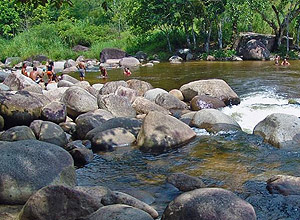 Crystal Unclear: A Future for Water Resources in Brazil
Brazilian Markets
17h34

Bovespa

-0,31%
98.295

16h43

Gold

0,00%
117

17h00

Dollar

+1,16%
5,3870

16h30

Euro

+0,49%
2,65250
Fleeing Is Not How I Defend Myself, Says Italian Ex-Leftist Guerrilla Cesare Battisti
10/13/2017 - 11h06
JOELMIR TAVARES
SPECIAL ENVOY TO CANANEIA (SÃO PAULO)
Italian former left-wing guerrilla Cesare Battisti is waiting in a simple two-story home in Cananeia, São Paulo, to see what the future has in store for him.
Mr. Battisti, who was detained on the 4th while traveling along the Brazil-Bolivia border, (an arrest that he considers fraudulent), has been considered a fugitive and pressure in favor of his extradition has been mounting.
His case has been dragging out since 2004, when the former guerrilla, accused of killing four people, arrived in Brazil. He denies the charges. Mr. Battisti was authorized to stay in the country back in 2010 by then-president Lula and had been a free citizen from 2011 onward.
However, Italy never ceased attempting to have him extradited and make him serve a lifetime sentence.
This week, the Temer administration decided to revoke his refugee status. The decision is also contingent on a ruling by the Supreme Court which is overseeing a habeas corpus request put forward by Mr. Battisti's attorneys.
Folha - You have said that your arrest in Corumbá for cash smuggling was a "set up" and that you were being followed. What happened?
Cesare Battisti - During my trip I realized that there were people tailing us. There were moments where we could tell that they were waiting for our car to drive past them. They stopped us 200 kilometers before Corumbá. They didn't stop anyone else. Only us. They were obviously expecting us. When I arrived at the precinct they were ecstatic. They took everyone's money and started saying that all of it belonged to me. That was the only way to make it exceed R$ 10,000 [the maximum amount permitted].
Did you want to run away?
Why would I want to run away? We went to buy fishing equipment, leather jackets, wine.
Knowledge of the fact that Italy is calling for your extradition would be a reason to consider fleeing, wouldn't it?
That's what they say. But I don't have the slightest intention of fleeing to a country where I don't even know what could happen. The political pressure they have exerted over Brazil never ceased. But this time the pressure is even stronger.
Why do you believe that Italy is calling for your extradition?
Mainly because during the 15 years I lived in France, I took advantage of every interview I possibly could to denounce what was going on in Italy. People who would get arrested and go missing, people who were killed by the police, people who committed suicide under suspicious circumstances, the mafia that was in power.
You are currently requesting that the government and the Supreme Court hear you out.
Fleeing is not how I defend myself. I have sided with reason and everything will work out to my advantage. My case was resolved in 2013. And they can't revisit the issue five years later [referring to the decision that former president Lula made granting him asylum]. They are trying to say that a new fact came up, but bulk cash smuggling? It was a set up.
What institution or person do you believe can save you?
I would like president Temer to become fully aware of the situation. Temer has all the judicial and political resources to allow me to stay here.
Translated by THOMAS MATHEWSON