Latest Photo Galleries
Signs of Tension
Published on 04/11/2016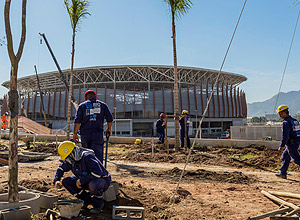 Rio: a City in Metamorphosis
Published on 11/19/2015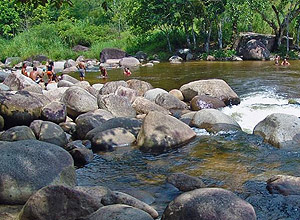 Crystal Unclear: A Future for Water Resources in Brazil
Brazilian Markets
17h34

Bovespa

-0,31%
98.295

16h43

Gold

0,00%
117

17h00

Dollar

+1,16%
5,3870

16h30

Euro

+0,49%
2,65250
Brazilians Taste the First Fruits of Recovery
10/13/2017 - 11h48
JOE LEAHY
ANDRES SCHIPANI
"FINANCIAL TIMES"
Like any other day at Ceagesp, São Paulo's bustling central market, Manuel da Silva Filho is busy inspecting the 30,000 tonnes of oranges, papayas and mangoes he receives before dispatching them to grocery stores across the megapolis.
But recently, the veteran fruit salesman has witnessed a phenomenon he has rarely seen in his more than four-decade career: a sharp fall in prices.
"This is the first time in the past 10 years that we feel prices have really dropped," he said. "Today, I would say fruit prices are 7 per cent lower [than last year]."
According to IBGE, the official statistics agency, Brazil, which has traditionally struggled with runaway prices, is undergoing a historic period of low inflation.
In the nine months to September, inflation was 1.78 per cent - the lowest in 19 years. In the month of September compared with a year earlier, it was 2.54 per cent, well below the central bank's target of 4.5 per cent plus or minus 1.5 per cent.
The low inflation - down from nearly 11 per cent early last year - is allowing an economy just emerging from its worst recession in history to breathe.
It is also prompting questions of whether Brazil can finally vanquish one of its oldest foes; in the early 1990s, inflation was running at annual rates as high as nearly 5,000 per cent.
"Our first goal is to bring inflation and interest rates down," Ilan Goldfajn, Brazil's central bank president, said in an interview. "Our second goal is to be able to maintain low inflation and interest rates for good."
Economists attribute much of the fall to the recession. With the economy contracting more than 7 per cent in two years, Brazil's ranks of unemployed swelled to more than 13m.
They also attribute the improvement to the appointment of a strong economic team by the now-embattled president Michel Temer, who took power last year after the impeachment of his predecessor, Dilma Rousseff, for budgetary violations.
His finance minister Henrique Meirelles has sought to stabilise a ballooning budget deficit while Mr Goldfajn has reiterated the central bank's commitment to its inflation targets.
"The team has very strong credibility - the fact they kept policy relatively tight when they got in helped to anchor expectations and that helps to explain why they are able to bring rates down as they are now," said David Beker, economist at Bank of America Merrill Lynch.
A bountiful harvest has also helped, lowering the price of food for five consecutive months. The price of food for consumption at home fell 5.3 per cent year on year in September, the lowest rate since 1994. This included politically sensitive staples such as tomatoes and beans, down 11 per cent and 9.4 per cent respectively.
The disinflation has allowed the central bank to steadily lower the benchmark Selic rate from a high of 14.25 per cent to 8.25 per cent, with economists predicting it could go as low as 7 or 6.5 per cent.
But to keep rates low in the longer term, Mr Goldfajn said fiscal reforms are necessary, including changes to Brazil's over-generous pensions system that would raise the minimum retirement age from the mid-50s to the mid-60s.
"If this happens, it will probably be one of the major changes in the Brazilian financial system and the Brazilian economy," Mr Goldfajn says of sustaining lower rates.
Economists say the Temer government has managed some important fiscal reforms, such as a new law to reduce subsidised loans offered by the national development bank.
It has also introduced a limit on government spending that prohibits rises above inflation.
But with the Temer government weakened by corruption scandals, the crucial pensions reform would probably have to wait until after the next elections in 2018.
"On the fiscal side progress is slow and quite limited and it's going to leave a very complex fiscal legacy for the next administration," said Alberto Ramos, economist at Goldman Sachs.
Others wonder whether all Brazilians will really rue the end of high inflation. High prices and accompanying interest rates have created a lucrative market in government treasuries. With the offer of "risk-free" real returns of about 7 per cent in recent years, upper middle-class and wealthy investors have not had to buy other more volatile asset classes, such as stocks.
"The big question now is whether we, Brazilians, can live without inflation and if we can manage lower inflation," said Ricardo Sennes, director of São Paulo-based consultancy Prospectiva.
But if the wealthy are in doubt about the benefits of low inflation, Mr Silva Filho, the fruit salesman at Ceagesp, has no qualms about crushing the scourge of high prices once and for all. "This is a good thing because people with lower incomes can eat better."
Copyright The Financial Times Limited 2017