Latest Photo Galleries
Signs of Tension
Published on 04/11/2016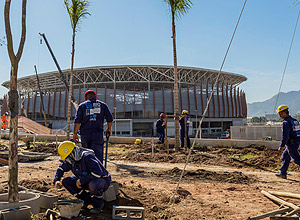 Rio: a City in Metamorphosis
Published on 11/19/2015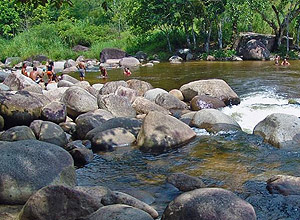 Crystal Unclear: A Future for Water Resources in Brazil
Brazilian Markets
17h39

Bovespa

-0,68%
113.283

16h43

Gold

0,00%
117

17h00

Dollar

+0,60%
5,3440

16h30

Euro

+0,49%
2,65250
"Ulysses" was harmful to literature, says Coelho
08/04/2012 - 09h38
RODRIGO LEVINO
ASSISTANT EDITOR OF ILUSTRADA
"Did you know I am wizard?" Paulo Coelho asks, in French, a friend visiting from Switzerland, where he lives. "A literature wizard!" answers the friend, laughing.
"See? Outside Brazil, no one knows that story," says Coelho in an interview by telephone to Folha.
Coelho, the Brazilian writer of greatest international success, now launching his 22nd novel "Manuscrito Encontrado em Accra" (Sextante publishing house), has reinvented himself.
Little by little, the mystic aura he claimed and the title of wizard were left behind. He now wears the clothes of modernity and pragmatism.
Internationally acclaimed, with 140 million books sold in 160 countries and translated into 73 languages, Paulo Coelho defends free circulation for his books, pirated or at very low prices.
He is on-line almost 24 hours a day, and has become a digital militant, eliminating any kind of middleman. He speaks to his readers directly.
"Twitter is my bar. I sit at the counter and listen to the conversations, starting others, feeling the atmosphere," he says - he is likely to soon reach 15 million followers in social networks.
The easier communication with readers made him give up autograph sessions and marketing trips.
"I only accept going to interesting places now. Next week I'm going to Azerbaijan. No more hotels," he brags.
But that's not all. He says the fact that his books are read from New York to Caruaru (Pernambuco, Brazil) and Ulan Bator, in Mongolia is because he is a modern writer, despite what the critics say.
"There was a time when the critics could destroy a movie or a book, and that influenced the audience directly. Nowadays, however, the relation is more horizontal, word of mouth has more power," he says.
About his so-called modern writing, Coelho says it has nothing to do with experimental styles in his narrative. "I'm modern because I make the difficult seem easy, and so I can communicate with the whole word."
JOYCE´S FAULT
Coelho says writers fell into disgrace when they sought recognition through form, not content.
"Today writers want to impress other writers," he says. And then names the culprit: "One of the books that caused great harm was James Joyce's 'Ulysses,' which is pure style. There is nothing there. Stripped down, 'Ulysses' is a twit," he says.
The accessibility he preaches also set the tone of "Manuscrito", the first book he has written since the scare he received in 2011 - his doctor said he would only have 30 days left to live due to a heart condition. "I lost my ground."
He lived to tell the story of Jerusalem, besieged, about to be conquered by crusaders. All in all, it is a religion-influenced reflection on the imminence of the end. But without biographical lessons, he says.
"The only reference to what I went through is when I say I received the manuscript in question on November 30, the day of my surgery. Aside from that, it is a book like all others I wrote," says Coelho, who writes a new book every two years and all at once.
He says he "allows himself the luxury of having time," in between books. Time to catch up on everything. From the mensalão trial to infighting among Brazilian authors selected by Granta magazine (Alfaguara publishing house).
He says he has no interest in being on the list. "It's not part of my world. I like writers like Eduardo Spohr [the author of 'A Batalha do Apocalipse']".
Spohr is one of the stars of "Geração Subzero" (Record publishing house), a selection of authors who say they are neglected by critics, countering "Granta."
On that opposite side Coelho feels comfortable and he intends to keep writing to those on that side until he dies.
"After that, none of my material will be published." He fears his heirs will fight over copyrights, or, even worse, publish his works without authorization. "It happened to Nabokov. It is terrible."
Translated by THOMAS MUELLO