Latest Photo Galleries
Signs of Tension
Published on 04/11/2016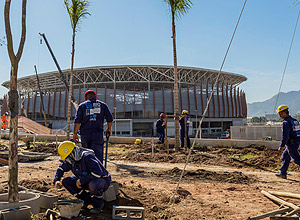 Rio: a City in Metamorphosis
Published on 11/19/2015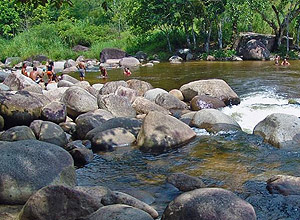 Crystal Unclear: A Future for Water Resources in Brazil
Brazilian Markets
17h37

Bovespa

+2,11%
100.764

16h43

Gold

0,00%
117

17h00

Dollar

-0,32%
5,2350

16h30

Euro

+0,49%
2,65250
93% of São Paulo Residents Want Age of Criminal Responsibility to Be Reduced
04/17/2013 - 08h55
AFONSO BENITES
FROM SÃO PAULO
If it were up to São Paulo residents to decide, the age of criminal responsibility in Brazil, currently 18 years old, would be reduced to 16. A Datafolha survey shows that 93% of São Paulo residents believe the age of criminal responsibility should be reduced. Six percent are against and 1% didn't answer.
Interviewers heard 600 people yesterday. The survey has a 4% margin of error.
Previous surveys, in 2003 and 2006, showed similar results, 83% and 88% respectively, with a 2% margin of error.
About the age at which a teenager should be held criminally responsible for his acts, some of those interviewed, answered spontaneously (without having been given options), that it should be 16.
Thirty-five percent believe teenagers between 13 and 15 should be tried as adults. Nine percent say even those under 13 should receive such treatment.
Marcelo Justo - 13.abr.2013/Folhapress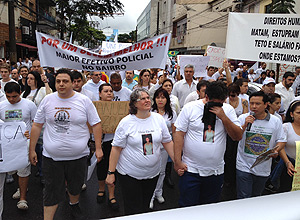 Protest after the murder of college student Victor Hugo Deppman, 19
When asked what would be more effective to reduce crime, 42% said the best way would be to create more efficient public policies for youths.
But 52% said reducing the age of criminal responsibility would lead to a decline in crime. Five percent believe both measures are necessary.
"The support of the reduction of the age of criminal responsibility shows the desire for a more immediate solution, but it also shows that people are aware that more efficient public policies are necessary," said Mauro Paulino, Datafolha's general director.
A survey by the Special Human Rights Department of the Presidency of the Republic in 53 countries shows that 42 of them establish 18 as the age of criminal responsibility.
Countries that have lower ages of criminal responsibility include the U.S., where even 12 year olds can be held responsible, depending on the sate.
The debate on the change in the law regained momentum after the murder of college student Victor Hugo Deppman, 19, killed after having his mobile phone stolen, on April 9 in São Paulo, even though he didn't react. The suspect is a teenager who was three days from becoming 18.
Currently, the Child and Adolescent Statute establishes that convicts can stay in jail for up to three years, but they remain in jail until they are 20 years and 11 months old, if they are arrested shortly before they become 18. But there are cases in which convicts can remain behind bars longer if determined by psychiatrists.
Translated by THOMAS MUELLO