Latest Photo Galleries
Signs of Tension
Published on 04/11/2016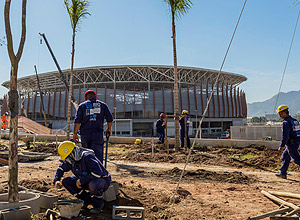 Rio: a City in Metamorphosis
Published on 11/19/2015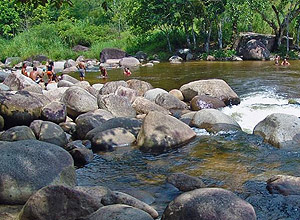 Crystal Unclear: A Future for Water Resources in Brazil
Brazilian Markets
14h18

Bovespa

+0,18%
114.862

16h43

Gold

0,00%
117

14h13

Dollar

+1,13%
5,5160

16h30

Euro

+0,49%
2,65250
Previously Invincible in Soccer, Brazil Rises as "Surf Country"
12/18/2015 - 10h22
Once upon a time, Brazil was invincible in soccer. Today, who would have guessed, the country reigns in surfing.
Paulista Adriano de Souza, better known as Mineirinho, 28, conquered the world surf title for the first time in his career at Pipeline Beach in Hawaii this Thursday (17).
For the second consecutive year, Brazil achieved the pinnacle of the sport. In 2014, another Paulista, Gabriel Medina, 21, earned the trophy. In Hawaii as well.
"I dedicate this title to my brother [Angelo], who bought me a board for US $8. At the time, that was a lot of money for him. Today I'm on top of the world for US $8. I can't wait to see my family with this giant trophy in my hand", he said.
He also remembered his surfer friend Ricardo dos Santos, or Ricardinho, shot to death after an altercation with a military police office in Santa Catarina.
"I got a tattoo on my arm in his honor. I know wherever I am he will be with me", he said.
Mineirinho shared that he won the world title with the help of Medina, who beat the Australian Mick Fanning in the semifinal -the only other candidate up for the title.
In the sequence, he beat the Hawaiian Mason Ho and secured the title.
Despite thanking the 2014 champion for his help, Mineirinho did not show weakness before Medina and closed with a flourish by winning the final round 14.07 to 8.50.
Part of the elite since 2006, Mineirinho has represented Brazil in the world circuit for much longer.
He had a difficult start. He ended his first season at 20. The following year, he was only 28. But then he emerged as a pleasant surprise in the form.
Considered one of the most committed athletes in the circuit, Mineirinho bet on surfing's most traditional aspects from the beginning to impress the judges. "Every one has his own profile. And I bet on classic surfing. That's my distinguishing factor", Mineirinho said in an interview with Folha in May of 2015.
By classic surfing, the athlete is referring to a traditional style, one which is not too radical or showy, relying on safe and well known maneuvers.
Translated by SUGHEY RAMIREZ