Latest Photo Galleries
Signs of Tension
Published on 04/11/2016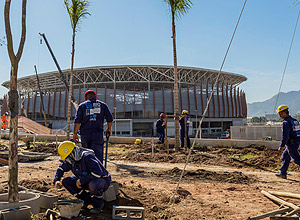 Rio: a City in Metamorphosis
Published on 11/19/2015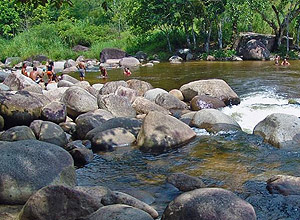 Crystal Unclear: A Future for Water Resources in Brazil
Brazilian Markets
17h35

Bovespa

+1,29%
110.250

16h43

Gold

0,00%
117

17h00

Dollar

-0,86%
5,2860

16h30

Euro

+0,49%
2,65250
UFO Trails Attract Travellers from Peruíbe to Easter Island
09/26/2014 - 10h55
ANA KREPP
SPECIAL ENVOY TO PERUÍBE (SP)
If you fear abduction by extraterrestrials, do not consider spending your vacation in Peruíbe (135km from the city of São Paulo).
What may look like an unassuming beach town in southern São Paulo state is, in fact, one of the cities with the highest records of UFO activity in Brazil, according to ufologist Wallacy Albino, a civil servant at Guarujá Mayoral office, and other enthusiasts who participate in ufology forums. There are no official records about these sightings.
Nevertheless, if you are up to visiting an airship, you can join the groups that visit the coastal town in search of extraterrestrial experiences. There are organized tours every Saturday that run only when there is a large enough group, which may vary between 5 and 30 people.
In 2008 some locals saw a red object in the sky. The following day a 14 meter circle was found across a field, and that marks the day the sleepy town entered the ufology tourism catalogue.
São Tomé das Letras and Varginha, in the state of Minas Gerais. Caçapava do Sul in Rio Grande do Sul. Ilha dos Colares, in the state of Pará.
The plateaus in the states of Bahia and Goiás, the Belezas mountain range in Rio de Janeiro and Barra das Garças in Mato Grosso are also tourist spots for those who are looking for places of contact, sightseeing or landing of unidentified flying objects, according to ufologists interviewed by Folha.
Due to its incipient nature in Brazil, there are no travel agencies that cater for this niche. In the United States, however, the prospects are different and the market is more organized.
In Roswell, in New Mexico, for instance, there are agencies, restaurants and suggested routes available for those who want to visit the region - where it is believed that an UFO landed back in 1947.
There are Brazilian initiatives here and there that offer the service as part of regular tour packages.
The travel agency Terra Inca is an example. It specializes in what it refers to as "mystery tourism" and promotes trips to places like Machu Picchu in Peru, the Easter Island in Chile and Stonehenge in Great Britain, where similar phenomena are said to have taken place.
Because UFO tourism is not so popular in Brazil, travellers are more likely to organize their own trip, and agencies intervene to help them out to find transportation and accommodation.
Ufologist Ademar Gavaerd, a reference on the subject, is regularly sent questions through the magazine he edits, called "Ufo", aimed at people who are looking for places to visit.
Although there are no official numbers to vouch for the rise in interest, Gevaerd has observed a rise in demand for this type of tourism in Brazil - and even a rising rate of foreigners visiting the country.
"Almost 90% of customers who travel with us are seeking an opportunity to find meaning in their lives", Alcione Giacomitti has said, author of mystery books and owner of Terra Inca agency.
Last month Giacomitti sold packages to the Easter Island to take place next December, which sold out in less than six hours.
It is believed that extraterrestrials visited the sight and helped locals to build the huge moai statues made of stone. In addition, because it is the most isolated place on Earth, it concentrates more energy than anywhere else, according to specialists.
Translated by CRISTIANE COSTA LIMA
Leticia Moreira/Folhapress
Abarebebe wreckage, one of UFO touristic route sightseeings of Peruíbe, a southern São Paulo city